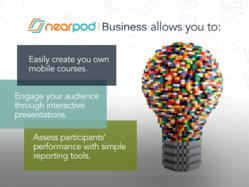 Nearpod Business is the perfect second screen for Webinars or Live Training events.
- Sina Shekou, Founder of Propertyware.com
Miami, FL (PRWEB) July 09, 2013
The "bring your own device" (BYOD) movement is gaining momentum in the business world, as employees are increasingly bringing their own tablets, smartphones and notebooks to work. While this might be a convenient trend for employees, the coexistence of multiple platforms and operating systems can be a major challenge for corporate IT and training staff using traditional learning software.
Nearpod Business is a modern multi-platform training solution that has been specifically designed for creating and delivering mobile-optimized courses. Nearpod works for iOS, Android and almost any computer (PC or Mac) with a Web Browser. The product taps into the so-called "consumerization of enterprise" and it allows any employee to create their own mobile-optimized courses in just minutes. No programming skills or IT support are needed.
Here is how it works. Nearpod Business works for synchronous and asynchronous learning scenarios by providing a web and mobile experience for both presenters and participants. This innovative platform enables any corporate user to create and share learning material with their audiences' mobile devices. Nearpod Business works in "Live" mode for real time training sessions; or in "On Demand" mode for self-paced instruction. Nearpod's content is stored in the cloud, allowing training participants to join "Live" or "On Demand" sessions from anywhere in world. Once logged-in, participants can navigate instructor-curated presentations including slides, videos, web pages, and many other engaging interactive assessment features like quizzes, polls, Q&As and even fun drawing activities.
"Nearpod Business is the perfect second screen for Webinars or Live Training events", Sina Shekou, Founder of Propertyware.com.
The Nearpod Business launch follows a successful presence in the Education industry. Nearpod's educational version (tailored for k-12 and higher ed institutions) was launched in the summer of 2012 and is already being used by more than 130,000 teachers world-wide.
Felipe Sommer, Nearpod's co-CEO, comments on this new release, "Nearpod began as an education-focused service for k-12 and higher-ed teachers. Early on, it was obvious that we were helping teachers by drastically improving student engagement and achievement. The word about Nearpod spread quickly and we began to receive lots of inquiries from business users and launching Nearpod for Business became a no brainer".
Learn more about Nearpod Business in http://www.nearpod.com/business and download the free app now from the App Store and try it yourself.
About Nearpod - http://www.nearpod.com.
Nearpod is a mobile learning platform that allows teachers to create and share interactive presentations with their students' devices in real time. During class and guided by their teachers, students can navigate selected web pages, see videos, collaborate by sharing their drawings or short essays, and participate in interactive assessment features, like Q&As, Polls or Free Text activities. Nearpod supports iOS, Android and almost any web-enabled device. Launched officially in the summer of 2012, Nearpod has attracted more than 130,000 teachers and has been downloaded by 500,000 students worldwide.