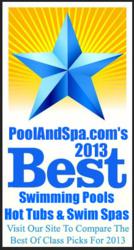 Vista, CA (PRWEB) July 08, 2013
Dimension One Spas (D1) - a leader in the design and manufacture of the world's most advanced hot tubs and swim spas - is a recipient of the "Best Of Class" 2013 award from PoolAndSpa.com.
PoolAndSpa.com, a Nevada-based pool and spa website, announced the winners of their 2013 Best Of Class awards for companies in the pool and spa industry last month. The award program recognizes outstanding and superior products, innovation and/or customer service in the pool & spa industry.
Various sources of information were gathered and analyzed to choose the winners in each category. This year's awards were based on a combination of factors including product inspections and phone interviews, as well as very detailed consumer input through the use of a third-party consumer survey company. Over 5,000 pool and spa consumers were polled throughout 2012 to the present.
PoolAndSpa.com has presented their Best Of Class awards every year since 1998. Award recipients receive a trophy award, certificate, an editorial review, and listings on the Poolandspa.com web site and online newsletter publications.
###
About Dimension One Spas
Dimension One Spas (D1) is the leading manufacturer of award-winning hot tubs and swim spas and home to the world's first curvilinear spa. D1 Spas is based in Vista, CA and sold through a network of dealers in the United States and worldwide. With over 35 years of experience, the company's four product lines and patented features offer a higher class of design, performance and value that meet a variety of consumer needs. For more information about Dimension One Spas, please visit: http://www.d1spas.com.