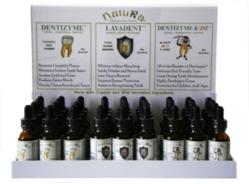 Naturally Restore the Health
and Beauty of Your Teeth and Gums!​
Phoenix, Arizona (PRWEB) July 12, 2013
Natura offers 100% natural products that provide customers with a way to naturally restore the health and beauty of their teeth and gums. According to their website, all of these products are "extracted from various organic and wild-harvested plants sourced from around the world." Their specialty is making a superior quality herbal product at a great value.
Natura is one of very few companies that incorporate the use of steam distilled, pure essential oils within these stronger than herbal tinctures plant extracts, and this shows in their amazing products like Dentizyme™, a deep cleaning and mouth freshener or Lavadent™, which Natura states, "is a unique, state-of-the-art natural cosmetic dental whitening and polishing product that only relies on the creative use of minerals, botanicals, and cutting-edge technology."
Natura offers natural oral care products that are formulated with a unique combination of organic botanicals, organic essential oils, and wild-harvested resins. The products have a fast-acting formula that has a great ability to improve the health and beauty of teeth, gums, and oral tissue quickly.
For more information or to order these amazing products, find Nutra online at http://www.naturarx.com.
Best West Direct
Fulfillment Service Center
23335 N 18th Dr.
Phoenix, AZ 85027
(623) 580-0611
BestWestDirect.com
Dennis(at)BestWestDirect(dot)com