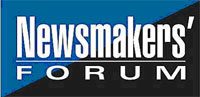 We're glad to be a part of this year's seminar not only as a sponsor, but also to represent LDS Wealth Advisors and the expertise we can offer on the panel. - Barry Link
(PRWEB) July 10, 2013
Independent financial services firm, LDS Wealth Advisor's CEO, Barry Link, is set to attend the Newmakers' Forum in Downers Grove, IL for this year's conference. The conference will include a networking and lunch hour for participants, followed by a presentation and panel discussion with Tony Ozzauto, Partner at Catalano, Caboor & Co. and Dawn Griffin, Senior Vice President of First American Bank.
The topic for this year's Newsmakers' Forum is 'Managing A Family Business', where the panel will discuss defining management roles, conflict and resolution, transfer of ownership, how to groom the next generation, and the importance of independent directors/advisory boards.
All small businesses are encouraged to attend, as the event will be a great networking opportunity.
"The Newsmakers' Forum has been such an influential and informative conference in past years," says Barry Link. "We're glad to be a part of this year's seminar not only as a sponsor, but also to represent LDS Wealth Advisors and the expertise we can offer on the panel."
This year's event will take place at the Doubletree Hotel in Downers Grove, IL from 11:00AM – 2:00PM on Thursday, August 8th, 2013.
ABOUT LDS Wealth Advisors:
LDS Wealth Advisors' mission is to positively impact the lives of its clients by providing personalized, objective financial advice and loyal service. The company is located in Wheaton, Illinois. With more than 60 years of experience between advisory partners, LDS Wealth Advisors thrives at performing extensive, ongoing research on Insurance products, money managers, and alternative investment options. For more information or to make an appointment with an advisor, please call 630-871-0070 or visit http://www.ldswealthadvisors.com.
Securities & Advisory Services are offered through World Equity Group, Inc. Member FINRA/ SIPC