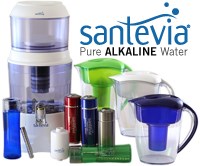 Partners earn 20% on high demand alkaline water products
Delta, British Columbia (PRWEB) July 19, 2013
Santevia Water Systems is proud to announce a new partnership with AvantLink, the premiere partner referral marketing network for web retailers.
"With AvantLink our Referral Partners will have access to powerful and innovative tools" says Bruno Hoffman, Director of Sales at Santevia. "We believe this investment demonstrates a strong commitment to excellence for our partners and online customers.
Santevia Partner Referral Program allows participants to advertise Santevia alkaline water products and earn a 20% commission on all online purchases. The self managed program offers detailed tracking. It pays commissions on both new customer and repeat sales for the life of the customer.
About AvantLink
AvantLink is a premiere partner referral marketing network with a unique approach to performance marketing. They qualify all merchants and only partner with organizations that are established web retailers and progressive merchants that understand the power of open system marketing. Their unique platform cultivates the serious and the honest, with quality as the cornerstone.
About Santevia
Santevia Water Systems Inc., located in Delta, B.C. Canada, manufactures and distributes water filtration and mineralization products creating alkaline water in convenient, eco-friendly and cost-effective ways. Santevia revitalizes tap water by adding essential minerals creating alkaline, pH balanced water helping your body combat disease and stay healthy. Santevia also donates 10% of all profits to the Santevia Gives Back program which supports projects providing food, shelter, education and clean drinking water to those less fortunate.