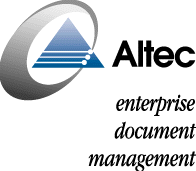 Laguna Hills, CA (PRWEB) July 10, 2013
Altec Products, Inc., a leader in enterprise document management and workflow solutions, announced today their Bronze sponsorship of Sage Summit 2013, July 21- 26, at the Gaylord National Resort and Convention Center in Washington, DC. Sage Summit is the largest education and networking event for Sage customers, value-added resellers and development partners; it offers access to networking, training, tools and educational opportunities that help solve business problems.
This annual Conference combines collaborative networking and activities with expert guidance on best practices and tech trends. The event showcases a "small group village" philosophy of attracting like-minded people in sharing tips and tools to increase workplace productivity and bring a new energy to the workplace
As the endorsed document management solution provider for Sage 500 ERP, Sage 300 ERP and Sage 100 ERP, Altec is intimately familiar with the Sage community providing the best in workflow and paperless solutions. They are the experts at helping businesses increase efficiency and experience significant reductions in paper processing to make for a leaner, more effective and more satisfied work team.
With multiple partner and customer sessions, Altec will demonstrate how electronic document management interfaces with Sage's financial applications to control existing workflow and effectively eliminate the need to file documents. Doug Tanner, Senior Sales Engineer for Altec will be presenting several sessions at the Summit. "Sage ERP Document Management is a powerful and flexible tool that allows companies to go paperless and improve productivity," states Tanner. "Not only will it enhance your Sage ERP investment but we will also demonstrate how automating key processes like expense reports can streamline your overall efficiencies."
Brandt Morrell, President and COO of Altec states, "Our relationship with Sage continues to go deep as customers drive the need for increased visibility and control as well as immediate access to financial information. Our continued sponsorship at Sage Summit gives us the opportunity to listen and respond to the needs of Sage customers. Increased productivity in the workplace continues to be a driver of those desires and our solution."
Visit Altec at Booth #858 in the Sage Marketplace Live Expo.
Partner Sessions
P-217 - Sage ERP Document Management - The Key to Growing Your Business
July 22 at 3:15 PM – 4:15 PM
P-164 - Sage ERP Document Management - The Key for Your Client's Enterprise Needs
July 23 at 1:15 AM – 12:30 PM
Customer Sessions
C-266 - Want to Go Paperless? Learn How to Get Started
July 23 at 2:00 PM – 3:30 PM
C-217 - Go Paperless with Sage ERP Document Management – The Key to Enterprise Efficiency!
July 24 at 8:30 AM – 10:00 AM
About Altec
Altec is a leading provider of Integrated Document Management (IDM) solutions to mid-market companies. For more than 25 years, Altec has provided a wide range of accounting-centric paper to paperless solutions including its flagship product, Sage ERP Document Management, which enables companies to capture, archive, workflow and route structured and unstructured documents to customers, employees and vendors. Altec's comprehensive solutions include IDM, output management, MICR check disbursement and paper documents that serve more than 13,000 customers worldwide. Altec enjoys strong, collaborative partnerships with ERP solution providers like Sage Software to provide the most comprehensive, integrated enterprise document management solution. Altec delivers its IDM solutions through a global network of authorized partners in more than 60 countries throughout the Americas, EMEA and Asia Pacific. For more information, visit Altec at the company website at http://www.altec-inc.com. Follow them on Twitter.com/doclinkbyAltec or call April Blankenship at 1-800-997-9921. ###