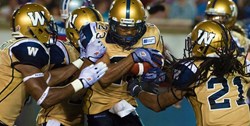 Rolling Hills Estates, CA (PRWEB) July 09, 2013
Desia Dunn, nickel, made 4 tackles and got his first interception in the CFL on July 4 for a 19-11 win against the Montreal Alouettes. He commented that he, "trusted his instinct." Prior to the game, Dunn watched film on the Alouettes' quarterback Anthony Calvillo he knew that Calvillo would attempt to throw to that particular receiver.
According to Sports Agent Jill McBride Baxter, "Desia has been working hard and it's showing."
Will Plemons, another of Baxter's clients, shared the win with Dunn as the Offensive Line Coach for the Winnipeg Blue Bombers. Plemons was the DL Coach at Fresno State when Dunn played cornerback for the Bulldogs before they both travelled up north to Winnipeg.
For more information on Desia, please visit his profile: http://jillmcbridebaxter.com/clients/userprofile/desiad