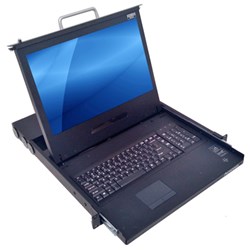 Chino, CA (PRWEB) July 09, 2013
Acnodes Corporation today announces the newest rugged industrial grade 1U high 19 inch short depth rack console drawer fitted with keyboard and monitor, the KD9150N. Built for space-limited environments and simple organization, the 1U high console drawer is composed of a 17 inch monitor, full 104-key keyboard and 2-button touch pad, offers easy operation to industrial and laboratory users. Monitor provides 210 nits of brightness at contrast ratio of 600:1, 1920 x 1200 pixels high resolutions, and 16.7 M color makes it easy to see fine details in complex, high-density graphic image, ideal for markets requiring high end graphic capability. KD9150N accepts VGA and DVI input signals and it offers on-screen display allows users to adjust display characteristics or select viewing options.
KD9150N comes with a 6-foot cable that connects to your PC. Optional cables up to 15 feet long are also available. The steel enclosure has a built-in handle and ball-bearing slides for smooth pull-out action. For power conservation and to extend monitor life cycle, the KD9150N automatically turns off when folded into tray. To accommodate industrial applications that have harsh environmental conditions such as, unavoidable vibration and rapid temperature fluctuations, KD9150N is designed to withstand shock, vibration, and wide range of operating temperature from 0 - 50°C.
Additional information on Acnodes' KD9150N can be found at KD9150N Product Page.
For a full series of Rackmount Monitor Keyboard Drawer from Acnodes, please visit Rack mount Monitor Keyboard Drawer Product Page.
Our product line configurations are illustrated on our web site at Acnodes.com. However, most of the rackmount and industrial monitors are custom built to customers' exact requirements. Contact us via e-mail: info(at)acnodes(dot)com or telephone (1-909-597-7588) for more information.
Acnodes manufactures, designs, and markets industrial computers and display solutions for diverse industries ranging from automation to military. We have an array of technological innovations in the area of rack mount servers, embedded computers, Panel PC's and rugged monitors that create simpler and more valuable products to the customers. We work closely with our clients to customize computer products to meet their required projects and challenges. Acnodes strives to explore new technologies to better improve life and work.
Company Information:
Name: Acnodes Corporation
Address: 14628 Central Ave.
City: Chino
State: CA
Zip: 91710
Country: US
Phone: 909.597.7588
Fax: 909.597.1939
http://www.acnodes.com