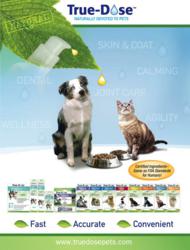 SuperZoo is one of the biggest shows for pet retailers every year, and we've already had great responses from new retailers eager to meet with us.
Saint Louis, MO (PRWEB) July 09, 2013
True-Dose Pets will bring its best-selling natural pet products to the SuperZoo National Show for Pet Retailers. This popular, yearly show will be held July 23- 25 at the Mandalay Bay Convention Center in Las Vegas, Nevada. The SuperZoo National Show for Pet Retailers is a non-profit event produced by the World Pet Association.
True-Dose will be displaying Calming, Skin & Coat and Joint Care products. They will be available at Booth # 5171, and interested pet retailers are welcome to stop by for additional True-Dose information.
"We're looking forward to reconnecting in-person with our current clients and seeing new faces this year in the pet retail industry," said True-Dose Founder and President Joe Wayman. "SuperZoo is one of the biggest shows for pet retailers every year, and we've already had great responses from new retailers eager to meet with us."
This year, True-Dose is excited to announce its partnership with EpiCor® For Pets. True-Dose and EpiCor will be attending the trade show together and sharing a booth.
"True-Dose's relationship with EpiCor has been amazing. We get to provide the best immune support available with the accurate and safe liquid dosing method of True-Dose," Wayman said.
EpiCor® has long been the best-selling immune boosting supplement for humans. Its new partnership with True-Dose allows EpiCor to provide pets with this same amazing product, but with a pet-friendly dosing method. EpiCor For Pets will display its full product line at SuperZoo, which includes immune supplements for puppies, adult dogs, senior dogs and dogs with allergies.
For more information about SuperZoo, visit their website at: http://superzoo.org/.
About True-Dose
True-Dose, headquartered in St. Louis, MO, uses a patented system to produce high-quality natural supplements for canines and felines. Their product line addresses joint care, skin and coat care, calming, wellness and dental care. True-Dose supplements are manufactured in a human-grade pharmaceutical facility, following the same strict testing and quality standards mandated by the FDA for state-of-the-art pharmaceutical product manufacturing. Their raw ingredients are certified and tested to ensure they meet strict quality standards. The founders of True-Dose have long had the goal of providing human-quality, pharmaceutical-grade products to our four-legged friends.
"All of our products are sourced and tested to human standards and manufactured in a pharmaceutical facility," said Joe Wayman, Founder and President of True-Dose. "Our goal with responsible sourcing is to ensure the same quality for pets that we expect for humans. Pets have now established themselves as part of the family, often considered to be like one of the children. True-Dose has a mission of better companion animal health with the understanding that pets have a tremendous impact on both the mental and physical health of humans."
True-Dose ensures quality ingredients as well as accuracy and ease of dosage. True-Dose products have been clinically proven to have faster absorption rates and higher peak concentrations than tablets and chewables in a head-to-head crossover study conducted by the Oklahoma State University Veterinary Animal Science and Research Departments.
Find out more about True-Dose Pets by visiting their website: http://true-dose.com/.
About Epicor
EpiCor® is an all-natural ingredient used in dietary supplements. This immune-supporting ingredient is a special combination of protein, fiber, vitamins, amino acids, antioxidants and other metabolites. Instead of providing immune "boosting" or suppression, EpiCor products balance the immune system, so that it can provide an optimal immune response.
EpiCor has been in human use since 2004, with an exemplary history of use. Employees at a factory manufacturing various solutions for animal agriculture problems were the first to notice the supplement's benefits. Those employees handling the active ingredients in EpiCor had astoundingly low levels of illness, and EpiCor was then researched and developed for human consumption. EpiCor is made with Baker's Yeast, the same product in bread and beer, but with a very different and complex fermentation process. EpiCor is currently available in hundreds of human supplements on store shelves today.
For more information about EpiCor® and its benefits, visit their website at http://epicorimmune.com/.