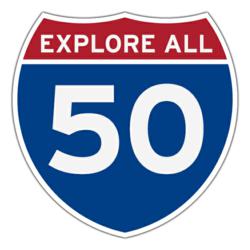 Irvine, CA (PRWEB) July 10, 2013
Exploreall50.com, a new website filled with resources for family travel in America, as well as other groups and individuals, launched on June 15.
It was created by Alisa Abecassis, a woman who began traveling with her children as a way of creating lifelong memories while imparting a tangible history of the United States.
"I created this website with multiple purposes in mind. First, it's a travel guide filled with itineraries, tips and not-to-be-missed places to visit across the United States," says Abecassis, who kicked off a 12-day, patriotic-themed trip -- Rebels and Revolutionary Ideas -- to six states on July 4.
"The site is also a how-to tool to help you craft educational adventures while creating wonderful experiences via family travel in America," she says. "It also works as a travel guide for anyone seeking to travel the states; individuals looking to hit the road, couples and any group, such as school, church or senior programs will benefit from the site's tips."
There are many great things to see around the world, but there is rich culture and history right here in the United States, which benefits from domestic travel spending and is a safer bet than traveling overseas, Abecassis says.
"We have so many places to visit here, including sites that mark turning points in our history. When you stand where monumental events have taken place, you take away so much more than just reading about it in a book or on an electronic device," she says. "Then, there are the cultural aspects, like food. I want my children to know that food doesn't come from a package – it's grown in someone's field."
Her site, which has a plethora of tips for family travel in America, among other groups, will help answer the following questions:
How to keep kids from getting bored?
How to research trips?
What are important lessons for kids to learn?
Are there great destinations in states many overlook?
How to decide where to go?
How to pack for being constantly on the move?
How to come up with a theme and why is it important?
"Although they don't realize it yet, these trips have been my greatest gift to my children," Abecassis says. "I've given each of them an overflowing memory box to which they can return throughout their lives. In addition to the good times, each of them has learned what it means to be an American -- to appreciate our rich history and the spirit of the American people."
About Alisa Abecassis
Alisa Abecassis is the proud mother of three children – Lilia, 17; Isaac, 15; and Joel, 14. After her marriage ended, she decided it was time to strengthen her family's bonds and personal history by traveling and gaining a better appreciation of the 50 United States. Abecassis is a prolific blogger and has a bachelor's degree in political science from UCLA.