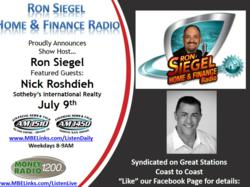 Laguna Beach, CA (PRWEB) July 08, 2013
On 8am Tuesday morning, July 9th, Nick Roshdieh will be joining The Ron Siegel Home and Finance Radio Show on AM1510 in Orange County or the Inland Empire, AM1450 in Northern San Diego and South Orange County or on the internet at http://www.MBELINKS.com/ListenDaily. Nick will discuss varying topics from his many years selling luxury real estate.
Nick Roshdieh offers HÔM Sotheby's clients a solid record of outstanding results: 95 percent of his listings have sold for an average of 97.3 percent of the listing price, and he has closed more than 700 residential sales since he began his real estate career in 2002. He has also worked with numerous developers on several of Southern California's preeminent enclaves, building a broad network of industry professionals who stand ready to assist HÔM Sotheby's clients in the most exclusive coastal communities.
Contact his today at http://www.nickroshdiehgroup.com/.
About Nick Roshdieh:
Roshdieh's success stems from a dynamic combination of personal and professional hallmarks that include an unwavering commitment to excellence, exceptional negotiating skills and an approachable manner, earning him the respect of his colleagues and a high level of client loyalty that's resulted in an exemplary rate of referrals and repeat business in this highly competitive industry.