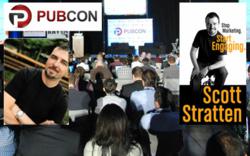 'A smart audience who engage, enjoy and are fellow geeks? Bring it on!' Stratten said of Pubcon, which was recently named a must-attend conference by Forbes.
Austin,TX (PRWEB) July 09, 2013
Pubcon is happy to announced that social media firm UnMarketing's president and popular digital marketing personality Scott Stratten — the man behind "Stop Marketing. Start Engaging." — will present a major keynote address during Pubcon Las Vegas 2013, the search marketing event of the year, to be held at the massive Las Vegas Convention Center.
Stratten is an internationally-respected marketing expert who has successfully combined viral and social media with what he calls authentic marketing to form his unique UnMarketing strategy, and has been named one of the top five social media influencers in the world on Forbes.com.
Stratten's best-selling book, "UnMarketing: Stop Marketing. Start Engaging," has been named one of the top business books by 1-800-CEO READ and a top-ten book by Under30CEO.com, and his latest best-selling book, "The Book of Business Awesome / The Book of Business UnAwesome. The Cost of Not Listening, Engaging, or Being Great at What You Do" has taken the online marketing world by storm.
Featured in publications including The Wall Street Journal, Huffington Post, CNN.com, Entrepreneur Magazine and USA Today, Stratten is among the top influencers on Twitter, and his clients' viral marketing videos have been seen more than 60 million times, including one the National Football League's Chicago Bears cited as the team's biggest motivator as it made a bid for the Super Bowl.
Formerly a music industry marketer, national sales training manager and professor at Sheridan College School of Business, Stratten ran his "UnAgency" for nearly a decade before focusing solely on speaking at events for companies like PepsiCo, Adobe, Red Cross, Hard Rock Cafe, Cirque du Soleil, Saks Fifth Avenue, Deloitte and Fidelity Investments, helping guide their way through the viral, social media, and relationship-marketing landscapes.
"Pubcon Las Vegas 2013 attendees will hear the always-enthusiastic Stratten share some of the latest 'Stop marketing. Start engaging.' innovations and strategies that have propelled his brisk rise to social media marketing success — a journey that included being named one of Business Review USA's 'America's 10 Marketing Gurus,'" said Pubcon founder and chief executive Brett Tabke.
As the founder of Ontario-based UnMarketing, Stratten and his team have been responsible for numerous Web hits including "The Dash Movie," "The Time Movie," and the "I'm Breaking Up With The Leafs" video.
"Having Stratten present a major online marketing keynote address at Pubcon Las Vegas 2013 will be a great opportunity for attendees of the world's largest optimization and new media conference to learn from one of Twitter's leading influencers," Tabke noted. "Stratten, who has more than 150,000 followers on Twitter, will share his successful approach to social and viral media marketing with Pubcon conference-goers in a keynote certain to benefit everyone lucky enough to attend it," Tabke added.
Stratten has been a long-time favorite among attendees during his several previous appearances, and Pubcon is delighted to have him present a keynote during Pubcon Las Vegas 2013, which takes place October 21 – 24 in the entertainment capital of the world.
"A smart audience who engage, enjoy and are fellow geeks? Bring it on!" Stratten said of Pubcon, which was recently named a must-attend conference by Forbes.
Registration is available now to hear Stratten, Google's popular head quality control engineer and webspam team leader Matt Cutts, and other leading technology innovators in cutting-edge keynote speeches and sessions during Pubcon Las Vegas 2013, at special early bird pre-conference pass pricing available for a limited time.
Learn more and register at http://www.pubcon.com
About Pubcon
Supported by the industry's leading businesses, speakers, exhibitors, and sponsors involved in social media, Internet marketing, search engines, and online advertising, Pubcon Las Vegas 2013 will offer a week-long exploration of the future of technology from Google Plus and Pinterest optimization to the latest online marketing studies presented by many of the world's top new media innovators.
With so much social media immersion on tap, Pubcon Las Vegas 2013 is a unique must-attend event for both corporate Internet professionals and independent webmasters who are serious about staying ahead of the curve in the quickly changing optimization and new media marketing industries.
Over more than a decade, Pubcon has gained a growing reputation as the conference of new media and optimization industry leaders with game-changing ideas that both attendees and speakers look forward to for its top-notch learning and networking opportunities, and Pubcon Las Vegas 2013 is expected to be bigger and better than ever before.
For more information about the conference, contact Brett Tabke at 512-231-8107 or brett(at)pubcon(dot)com.
For more details about sponsorship and exhibition opportunities, contact Conference Director Jeff Randall at 512-686-1295 or jeff(at)pubcon(dot)com.