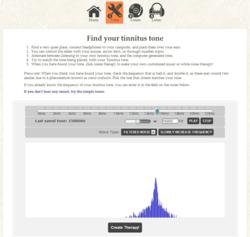 Tinnitus frequency detection is now easier and more accessible than ever.
Toronto, Ontario (PRWEB) July 11, 2013
The first step in effective tinnitus treatment is the detection of a patient's tinnitus pitch (their tinnitus frequency). Typically, software is used to produce a computer generated tinnitus tone, which the user then matches to their own internal tinnitus tone. This is done with the aid of a computer and headphones.
The tools available for this procedure have typically been limited by a lack of available features and a lack of accessibility. Today, AudioNotch is breaking down both these barriers by releasing a new version of its tinnitus pitch detector that is accessible on-line through a web browser.
This new generation of tuner includes several new features which aid in the detection of tinnitus frequency. First and foremost - users with "atypical" tinnitus tones (tones that do not sound like a simple pure tone) now have the option of selecting from different types of tinnitus tones, and are no longer limited to manipulating tinnitus frequencies alone in order to find the correct match.
Furthermore, visualization software allows users to visualize their tinnitus tone, aiding in frequency matching. A new automated feature also automatically gradually increases the tone, requiring less involvement from the user, and freeing them to concentrate on tinnitus tone matching.
AudioNotch is providing this service free of charge as an adjunct to its existing tinnitus treatment software, which provides Notched Sound Therapy that is tailor-made to each individual's unique tinnitus frequency. This sound therapy can significantly decrease the volume of a user's tinnitus tone, providing comfort and relief. AudioNotch has been providing tinnitus treatment to patients worldwide since 2012.