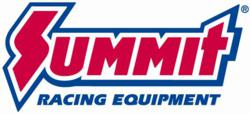 Tallmadge, OH (PRWEB) July 10, 2013
COMP Cams 4-Pattern Hydraulic Roller Camshafts are the very first series of street cams designed to sync valve opening and closing with varying runner airflow pulses from conventional long/short runner intake manifolds.
The carbureted or single throttle body EFI intake manifold used on V8 engines features longer outboard runners and shorter inboard runners. That means unequal airflow delivery—the outboard cylinders served by the long runners get less air than the inboard cylinders fed by the short runner. Ideally, a camshaft should be able to time valve opening and closing with those runner pulses, effectively balancing airflow between the inboard (short runner) and outboard (long runner) cylinders.
Using experience gained from grinding this type of cam for NASCAR Cup Series teams, the 4-Pattern cams use one set of intake and exhaust lobe patterns for the outboard runners and another set for the inboard runners. The outboard exhaust valves open two degrees earlier than the inboard valves; the outboard intake valves close two degrees later than the inboard valves. This gives the outboard cylinders with longer runners more duration and a later intake closing to move the same air volume as the inboard runners. Shorter runners need less duration and an earlier intake valve closing to balance the airflow volume between cylinders.
Matched against comparable single or dual pattern hydraulic roller cams, the Comp 4-Pattern cams can offer gains of five to 20 horsepower with the bonus of up to 1,000 more useable rpm. The 4-Pattern cams also feature tight lobe separation for excellent power and a throaty sound.
APPLICATIONS
1955-98 small and big block Chevy
1962-94 Ford 221-302
PRODUCT LINK
http://www.summitracing.com/search/product-line/comp-cams-4-pattern-hydraulic-roller-camshafts?autoview=SKU
Summit Racing Equipment
http://www.SummitRacing.com
1-800-230-3030