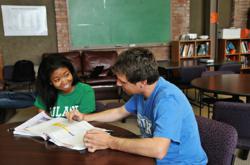 Scottsdale, AZ (PRWEB) July 08, 2013
Tutoring is a competitive business.
According to Michael Sandler of education consulting firm Eduventures, the "supplemental education" sector is a $5 billion industry.
Your competitors are not only independent tutors like you, but also franchises, college professors, teachers and individuals who tutor as a side job. All of these individuals are vying for your students.
"Every business has its share of competitors, and the tutoring industry is no exception," said Bob La Loggia, CEO of Appointment-Plus tutor scheduling software. "Having a thought-out approach to your business can mean the difference between a thriving career and one that just can't get off the ground."
To grow your business, you need to pass the competition and establish your service in the local community. Here are five tips to accomplish this:
1. Enhance your online presence.
Prospective clients are searching for tutors online. Make sure they can find you through a professional Web site and social media pages. Enhance your search engine optimization (SEO) so that your services rank high in search engines.
To generate instant sales, add online scheduling to your Web site and Facebook page. The software allows students to conveniently book their lesson times without having to call you.
2. Get listed.
Submit your information to online directories like WyzAnt, TutorZ and Care.com. These sites rank high in online searches and can put your name in front of thousands of potential students.
3. Contact local schools.
Many schools have a tutor referral program. Contact local elementary and high schools to find out how your service can be added.
4. Create a referral program.
Your current students are top marketing resources. Encourage them to refer family and friends with discounts on their own service.
5. Offer better pricing.
A simple way to get ahead of the competition is with better pricing. Find out what your competitors are charging. Before dropping your prices, calculate how much of a decrease is feasible in order to still be profitable.
Learn how Appointment-Plus tutor scheduling software can grow your business. Call 800-988-0061. Download our research paper titled "Manual vs. Automated Appointment Scheduling."
#
About Appointment-Plus: Over 16 million people trust Appointment-Plus online scheduling software for their booking needs. It's the leading scheduler for tutors that provides student self-scheduling, reminder notifications that reduce no-shows by 70 percent, and online payment options. The software integrates with Outlook and Google calendars.
For media and bloggers: If you're interested in interviewing an executive to learn more about Appointment-Plus, please e-mail us at erichard at appointment-plus dot com. If you're a blogger interested in sharing stories and guest articles, please contact us at the above e-mail.