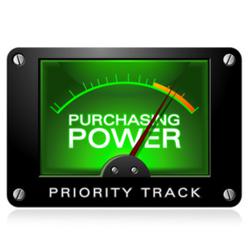 the highest quality products at lower prices by leveraging billions in purchasing power
(PRWEB) July 09, 2013
Source1 Purchasing is pleased to introduce Priority Track, a new purchasing option founded in expertise and strategic solutions that interfaces with an organization to optimize procurement with the customer in mind. This customized and refined purchasing program offers product quality consistency as well as the highest aggregated savings in order to achieve higher customer satisfaction.
"The focus is on building and leveraging a high performance procurement program in the shortest period of time while delivering a lasting operational and financial result," says Bob Bassett Source1 Purchasing Senior Vice President, Operations. "Priority Track provides a different approach by supporting an organization's change through navigation."
Recognizing an Existing Need for Customers
Multi-unit owners and operators have a high level of complexity to direct in managing the day-to-day operations of their portfolio of locations. In an effort to support the vision to build brand and ensure adherence to standards related to quality while containing costs, Source1 Purchasing developed a program exclusively for multi-unit operations. Priority Track grants access to a robust program that supports procurement efforts in every area of an operation from parking lot to rooftop.
"Priority Track was created to offer a strategic procurement solution for owners and operators who are tasked to remain current on the myriad variables of the daily operation while defending the growth requirements of their business," says Bassett. "By creating a customized program to fit the individual needs of an operator, Priority Track nurtures business enablement and change."
Offering Marketplace Advantages
Priority Track, like other Source1 Purchasing programs, provides access to the highest quality products at lower prices by leveraging billions in purchasing power and pricing agreements. The impressive range is strategically crafted in support of the foodservice and hospitality industries and includes everything from food and beverage to capital equipment, smallwares, maintenance, grounds programs, staff uniforms and office products.
In addition, Priority Track puts Source1 Purchasing in the role of partner rather than provider, which turns the focus to increasing an operation's relevancy in the marketplace. "We are operators serving operators," says Scott Hoffmire, President and CEO of Source1 Purchasing. "Our expansive expertise in supply chain management allows us to assist operators in strategic decision making as well as to control costs."
About Source1 Purchasing
Source1 Purchasing has been a leading provider of supply services to the lodging and hospitality industries for more than fifteen years. Focusing specifically on delivering quality products, savings and operational efficiencies, the company offers clients a comprehensive suite of services, empowering operators to access lower prices, reduce operating costs, ensure consistent product quality, and achieve higher customer satisfaction for their customers.