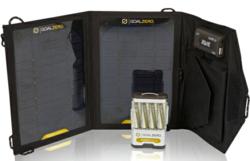 This watch is not only our best seller, it is our absolute favorite new GPS watch product for 2013 and it should last two to three times longer than most competing products
Bozeman, MT (PRWEB) July 09, 2013
Every Suunto Ambit 2 Sapphire sold at the Heart Rate Watch Company will include a Goal Zero Guide 10 Plus Mobile Kit from July 9th until the end of July, but only while supplies last.
"We have a good relationship with Goal Zero and they make phenomenal products for re-charging portable electronics off the beaten path, where no wall sockets exist", says Rusty Squire, President of the Heart Rate Watch Company.
"The Goal Zero Guide 10 Plus Mobile Kit features a portable solar panel that you can hang from a backpack, or place anywhere it has sun exposure, and it recharges a portable battery with USB and micro-USB connections," says Squire. "It can recharge your iPhone, GPS watch, iPod or any other portable electronics you want to bring on your trip."
"Our chief tester John Yarington used one on a week long back country expedition in Krysgstan and said it was totally trick," says Squire. He adds, "He could re-charge his smartphone and GPS watch several times per charge."
SUUNTO AMBIT 2 SAPPHIRE - THE MOST RUGGED GPS WATCH EVER MADE
The Suunto Ambit 2 Sapphire is legendary already for both its features and its super rugged construction. "This watch can navigate and run up to five apps at a time", says Squire. He adds, "With the Sapphire crystal, you can't scratch it unless you encounter a diamond or silicate carbide."
"The watch has a track back feature for guiding you out the route you came in by and offers 100 way points, a barometric altimeter and advanced weather features," says Squire. He adds, "It also does speed, distance, heart rate and offers a very easy, intuitive menu - just pick your sport and go."
"This watch is not only our best seller, it is our absolute favorite new GPS watch product for 2013 and it should last two to three times longer than most competing products," says Squire. He adds, "The old adage that you get what you pay for is what the Ambit 2 Sapphire is all about".
HURRY WHILE SUPPLIES LAST
"The Suunto Ambit 2 Sapphire has limited availability so hurry, while supplies last, to claim your complimentary Goal Zero Guide 10 Adventure Kit", says Squire. You can reach the Heart Rate Watch Company toll-free at 866-586-7129.