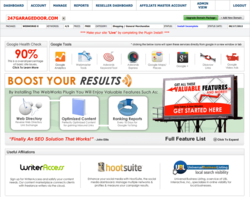 We are consistently at the top of the ranking - Ron Hall
San Clemente, CA (PRWEB) July 09, 2013
Search marketing company Blackwood Productions remains untouched weeks after Google started rolling out the Penguin 2.0 algorithm updates. The company's WebWorks search engine optimization (SEO) tool has also survived previous Google updates, from Panda to Penguin 1.0. Be sure to see the Company's system "Results" portal to get a feel for the significance of what they are doing.
"Our system covers all the bases of what solid long-lasting optimization is about—relevant links, original content, and social media engagement. That is why with us, clients never have to worry about their rankings falling whenever Google rolls out algorithm updates," explains Robert Bibb, the company's spokesperson.
The Penguin 2.0 iteration has sent many SEO companies on a tailspin. Google is on a mission to reduce the visibility of websites found to be violating its Webmaster Guidelines, particularly those that use black-hat SEO techniques including cloaking, keyword stuffing, link scheme participation, and duplicate content creation. The latest developments have caused many less-experienced search engine marketing firms to lose clients.
For Blackwood Productions, however, business is booming.
"To ensure that our clients' websites are never penalized, we only use optimization methods that comply with Google's guidelines. As a consequence, our clients have maintained top positions for their respective niches. Some are even seeing drastic rank improvements because the algorithm adjustments are working in our favor," explains Bibb.
Search engine marketing firm Blackwood Productions gained recognition in the SEO industry for its revolutionary WebWorks SEO package. Its internet marketing and search optimization platform helps clients identify the most applicable target keywords with the highest return on investment, provides well-written content that converts readers into customers, and develops a creditable and relevant web following in the form of inbound links and social media references.
The company has been a top SEO company for more than 10 years and currently manages over 38,000 small-to medium-sized business websites. It has thrived through major algorithm changes and shows no signs of slowing down.
Asked about what advice he can give website owners who are afraid of the Google slap, Bibb had a few suggestions. "The first thing you need to do is to audit your links. You need to remove your website from low-quality directories and link farms, including some blog networks that Google is likely to de-index in the coming months. If you do not want to be caught up in this tidal wave, get out while you can. Start removing links from websites with low authority, especially those whose content is completely irrelevant and unrelated to yours. If you are included in a paid directory with no approval process, request to be removed from it. Last April, Google went after directories whose links are not vetted, and the purging is likely to continue," said Tom Blakeley the Company's president.
According to Bibb, it is important for website owners to understand exactly what their SEO provider is doing to their websites. "Talk to your SEO provider if you're already using one. Hold their feet to the fire. Have them explain and defend their links acquisition strategy to you until you are fully satisfied and convinced that it is not in violation of Google's guidelines."
He also advises website owners to increase the quality of their content. "In order to gain site authority, you need well-written, credible content that people actually enjoy reading. Establish yourself as an author and expert in your field. Make sure that your content is grammatically correct and not just a keyword-stuffed page. The days of writing solely for search engines is long gone. You need to keep your readers engaged," he explains.
Finally, Tom Blakeley recommends that site owners review their Google Webmaster Tools account and take care of existing issues right away. "Check if all your pages are indexed. Make sure that your XML sitemap is working right. Are there any crawl errors? Ensure that your page load time is acceptable and make HTML improvements whenever necessary. It's a good idea to have your technical SEO aspects working flawlessly to show Google that you take good care of your website."
For business owners who do not have the time and the technical knowledge to make their websites Google-worthy, Bibb proposes a simple solution. "Sign up for one of our SEO packages and leave all the hard work to us," he says.
Blackwood Production's WebWorks takes the headache out of Google compliance for as little as $19.95 per keyword. The introductory package is even free of charge for two months, giving new customers a taste of the revolutionary technology before they sign up for a paid package. "Our best-seller is the WebWorks Local package, costing $19.95 per keyword. We designed it for local businesses that want to rank for geographically specific keywords and gain top-quality, one-way links from related websites. We also have a package for bigger businesses called WebWorks National, which is designed for high-competition search. At only $29.95 per keyword, it's one of the most affordable high-level SEO packages in the market," Bibb explains.
The SEO packages already integrate ranking reports, inclusion in a high quality, non-link farm directory, Google Sitemap automation, and even a customizable business log. Blackwood Productions helps its clients determine the keywords will bring them the most traffic and conversion.
"Best of all, our SEO service doesn't require any maintenance or upkeep work from the client. All they need to do is sign up and let us take over," Bibb explains.
"We've been an industry leader for more than 10 years. We know what we're doing," he added.