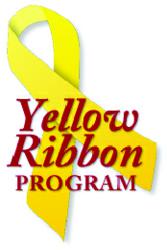 Lynchburg, VA (PRWEB) July 08, 2013
In a continued effort to provide the best possible service for its military students and their eligible dependents, Liberty University signed an updated Yellow Ribbon Scholarship agreement with the U.S. Department of Veteran Affairs (VA) that provides an unlimited scholarship to cover tuition and most fees for those who qualify. It goes into effect for the Fall 2013 semester.
"This new unlimited cap will allow active military, veterans, and eligible dependents who qualify to have virtually no out-of-pocket expenses for their degree, helping them to focus on their studies instead of worrying how they will fund their education," said Emily Foutz, director of Liberty's Office of Military Affairs.
To qualify, students must be 100 percent eligible for the Post 9/11 GI Bill (Chapter 33), having served, or having a spouse or parent serve, at least 36 months of active duty. The scholarship is available to an unlimited number of eligible recipients.
Foutz said the change will specifically benefit eligible recipients interested in Liberty University School of Law and the School of Aeronautics, because the costs of these programs typically exceed the cap set by the VA.
Liberty is recognized among the country's top military-friendly schools, largely because its efforts are aimed at meeting the specific educational needs of service members, whether residential or online. Nearly one-third of current Liberty students — 27,500 — are service members, veterans, or military spouses, representing all branches of the U.S. armed forces. More than 8,500 are currently on active duty or serve in the Reserves or National Guard.
Liberty is proud to support the nation's military by preparing men and women for a military career and a promising future. Liberty provides service members with tuition discounts, fee waivers, book vouchers, and the services of a dedicated Office of Military Affairs, including family resources and student care. As part of its military financial support, Liberty also offers the Heroes Fund Scholarship for veterans wounded in the Gulf Wars and for spouses of those who lost their lives during those conflicts.
For more information on military benefits and scholarships, please contact lumilitary(at)liberty(dot)edu.
Military students who wish to participate in the Yellow Ribbon Scholarship program are asked to follow the instructions provided on the Liberty University Post 9/11 GI Bill webpage.
About Liberty University
Liberty University, founded in 1971, is the largest private, nonprofit university in the nation, the largest university in Virginia, and the largest Christian university in the world. More than 100,000 students attend classes on its 6,800-acre residential campus and study in its thriving online education program.