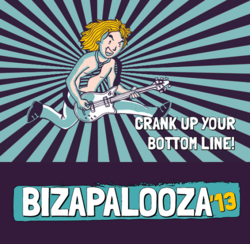 I got the idea one Sunday as I was looking back on 'younger days' when anything was possible - we didn't care about the economy, we only cared about making a difference in the world and having fun. Why not do that with our businesses?
Akron, OH (PRWEB) July 09, 2013
With the rising cost of airfare and accommodations, fewer business owners are traveling to attend business conferences, and yet they still need the valuable advice and learning tools they receive from industry events.
Bizapalooza, a virtual conference, will provide resources and education geared toward small business, and attendees don't even have to leave their offices to attend. The event is scheduled for July 16-18, 2013, and is free to attend. The event is being sponsored by SmallBizOpinions.com, a community of small business owners who share their insights and get access to data to run their business better.
The panel of "rock star" small business experts includes marketing, organizational, and public relations experts including:
Jon Ferrara – CEO of Nimble
David Fishof – Founder of Rock and Roll Fantasy Camp
Donna Cravotta – CEO of Social Sage PR
Brenda Horton – Co-Creator of ActionPlanr
Susan Payton - President of Egg Marketing & Communications
Steve Wilkinghoff – Author of Found Money
Adam Byrnes – International Director of Freelancer.com
Jim Kukral – Speaker and award-winning blogger
Tim O'Connor – CEO of Marcademy.com
Chaitra Vedullapalli – CMO of Meylah
Sabrina Parsons - CEO of Palo Alto Software
Erik Koto – CEO of QuestionPro
Deborah Kagan – Sensual Lifestyle Specialist
Melinda Emerson – Smallbizlady
Share Ross – Bassist for Vixen and Founder of Video Rock Star University
Shawn Pfunder – Godaddy
Mariano Andres Garcia - The UX Department
Patty Tulloch – Marketing Director, MagCloud
Bridget Weston Pollack – Marketing Director, SCORE
Anita Campbell – Small Business Trends
Tina Forsyth
Matthew Goldfarb – Corporate Renegade
Aseem Badshah – Founder & CEO of Socedo
Anum Hussain – Hubspot
Ivana Taylor, founder of Bizapalooza, knew that most people find conferences boring and concerts fun. She wanted to create a virtual event that brings the fun and energy of the rock concert experience to building and growing a business.
"I got the idea one Sunday as I was looking back on 'younger days' when anything was possible - we didn't care about the economy, we only cared about making a difference in the world and having fun," said Taylor, "I thought, why not do that with our businesses?"
Taylor was inspired by the idea of having the 28 million existing small businesses hire just one more person. The impact that would have on the economy and on the world motivated her to do something.
"I realized that through my blog, my articles and social media network, I could actually reach 28 million small business owners. So I started reaching out to all my professional and social media contacts whose books I had read and reviewed, tools I had used and strategies I had used to grow my business. I figured if they helped me grow my business, they could help every small business owner who attended Bizapalooza."
There is no cost to attend the online conference. For the agenda, speakers' bios, and to register for Bizapalooza, please visit http://smallbizapalooza.com.
About Bizapalooza
Bizapalooza is an online event that brings together the "rock stars" of small business success, entrepreneurial expertise and marketing wisdom, sharing their sought-after insights during this virtual festival — 3 days of Peace, Planning and Profits. Attendees participate from the comfort of their own space, via internet connection, to access high-value sessions packed with business advice, great content, and loads of freebies as part of the festival fun. No stressful travel, expensive hotel stays or stale bagels like those big city conferences. Instead we invite you to kick back, dig deep, come as you are, and get ready to ROCK your small business world! There's no other event quite like it.