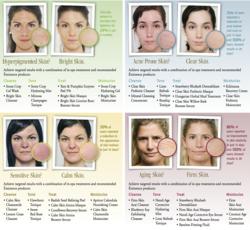 We can achieve amazing results naturally.
Vancouver, BC (PRWEB) July 09, 2013
As a leader in organic skin care, Éminence Organic Skin Care (eminenceorganics.com) has been instrumental in the natural and organic skin care movement by proving that fresh, natural ingredients are fundamental in treating skin conditions. Éminence is thrilled to reveal the power of natural ingredients with the release of new Before and After photos which demonstrate the remarkable results possible with their active organic skin care products. Éminence pioneered the organic skin care movement in 1958—long before it was a mainstream trend—bringing years of experience, expertise and proven skin care treatments to their products and spa services.
Éminence Organic Skin Care products treat all the major skin care concerns using natural alternatives to chemical formulas to achieve equal, if not better, and visible results over a short period of time. Éminence believes that nature provides everything our skin needs to stay healthy, glowing and beautiful.
Science and knowledge about the benefits of organic ingredients is growing fast and as a result there has been a huge increase in demand for organic skin care over the last 10 years. Éminence is proud to share visible results of organic skin care solutions that are not only effective but healthier for the skin and better for the earth.
Clinical studies with their active organic skin care products have proven results:

Acne prone skin: 75% of users reported a reduction in acne lesions and scars in just 14 days and 100% of users showed results in 28 days
Aging skin: 86% of users reported an improvement in skin elasticity in just 14 days and 100% of users showed results in 28 days
Hyperpigmented skin: Clinically proven to brighten the skin by 24% in just 3 months
Sensitive and Rosacea prone skin: 50% of users reported a reduction in the appearance of skin redness in just 14 days
"The results that we achieve from our organic line of products speak for themselves. Your skin is a living organ so treating your skin with living elements makes sense and it is because of this synergy that we can achieve amazing results naturally," says Boldijarre Koronczay, President and Founder of Éminence Organic Skin Care. "Not to mention, we absorb a large amount of any product applied to the skin, which is why it is so important that we are using clean ingredients rather than harsh chemicals."
The new Before and After photographs showcase results in the treatment of acne, the visible signs of aging, rosacea and hyperpigmentation using a combination of in-spa treatments and a daily regime of Éminence Organic Skin Care products.
About Éminence Organic Skin Care
Éminence Organic Skin Care is the award-winning provider of the most effective skin care products in the natural and organic skin care industry. With more than half a century of herbal craftsmanship and innovation, and several centuries of unsurpassed skin rejuvenation techniques unique to Hungary, we offer the highest quality natural skin care to leading salons, spas and their clients in more than 24 countries around the world. Our superior spa treatments and products rely on a unique combination of hand-picked fresh ingredients. Vitamins are captured in their all-natural fresh base, offering dramatic results as actual seeds, pulps and peels begin the regenerative and healing powers that only nature can produce. Voted "Favorite Skin Care Line" by spa professionals and seen as Hollywood's skin care secret, with devoted fans such as Madonna, Jessica Biel, Katherine Heigl, and Mark Ruffalo, we are renowned for premium organic skin care that enhances your well-being naturally. Our commitment to the environment is integral to our business practices and we strive to create products that are good for the earth as well as good for the skin. By enlisting wind and solar power energy in the making of products, recyclable packaging with vegetable-based inks, geothermal heating in the laboratory, an eco-alternative design of our head office we do all that we can to combat climate change. Starting in the fall of 2012, our Forests for the Future initiative brought our commitment to the environment to a whole new level by planting a tree for every product sold. Visit eminenceorganics.com for more information.