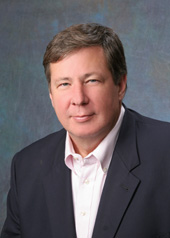 Dan McDade's many contributions to the discipline of sales lead management certainly warrant this honor," noted SLMA Founder and Executive Director, James Obermayer. "Requirements for recognition are stringent.
Atlanta, GA (PRWEB) July 09, 2013
The Sales Lead Management Association (SLMA) announced that Dan McDade, president and CEO of Atlanta-based prospect development company PointClear, is one of two sales lead management professionals recently named to the 2013 SLMA College of Fellows. McDade is one of two individuals demonstrating long-term success as a leader, mentor and author/educator in sales lead management to be tapped to join the newly initiated college. Laura McGuire, CEO of Saligent, Inc. was also named.
"The SLMA College of Fellows is an opportunity for people who have given their time and treasure, expertise and leadership to be recognized," said James Obermayer, SLMA founder and executive director. "Dan McDade's many contributions to the discipline of sales lead management certainly warrant this honor," Obermayer added, noting that requirements for recognition are stringent and include an extensive application process, including submission of five letters of reference from peers, co-workers, clients and industry influencers.
"SLMA Fellows are known as masters of a complicated, multi-discipline, cross department process that is important to both B2B and B2C companies," explained Obermayer. "Without the leadership of these Sales Lead Management Fellows, billions of marketing dollars could be wasted on creating demand that is not managed or converted."
"It is indeed an honor to be chosen as an SLMA Fellow and to be a part of this prestigious program," said McDade, who is now eligible to use the term "Fellow of the SLMA" or "Sales Lead Management Association Fellow" as part of his professional credentials. "I am very appreciative of this significant recognition," he added.
McDade founded PointClear in 1997 to provide prospect development services to business-to-business companies. He is the author of The Truth About Leads, an insightful book that helps C-level executives focus B2B lead-generation efforts, align sales and marketing organizations and drive revenue. McDade has been on SLMA's 50 most influential list for four consecutive years. In addition he was named a 2012 Top Sales Expert and one of the Top 50 Sales & Marketing Influencers in 2012 and 2013 by Top Sales World.
About the Sales Lead Management Association
The Sales Lead Management Association was founded in 2007. The association serves more than 5,000 members of the worldwide sales lead management community. In 2012, SLMA's site received more than 149,000 total visitors. A privately held organization, SLMA has a diversified business model with revenues coming from sponsors, display advertising, SLMA Radio, sponsored video webinars, newsletter advertising, sponsored cartoons, industry leader links, a speaker's directory, case studies and a blog, Sales Lead Management Today. SLMA's featured programs include more than 300 articles and white papers, The 50 Most Influential People in Sales Lead Management, the SLMA 20 Women to Watch and "Sales Lead Management Week" in October and the SLMA College of Fellows. For additional information, visit SLMA.
About PointClear
PointClear provides the prospect development services needed to drive revenue for B2B clients. Since 1997, the Atlanta-based company has provided response management and lead generation, qualification and nurturing services to healthcare, business services and technology organizations, delivering 100% sales-qualified opportunities to client sales and marketing teams. This unparalleled level of consistency and quality is possible because of the firm's recruiting, planning, segmentation and database management best practices. PointClear's founder and CEO Dan McDade authored the book, The Truth About Leads, available on Amazon and through other online sources. For more information visit PointClear's blog ViewPoint | The Truth About Lead Generation.
###