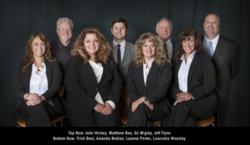 This team will enable Micro Matic to continue to grow in the foodservice market.
Northridge, CA (PRWEB) July 10, 2013
Micro Matic USA, Inc. is pleased to announce seven hires from the foodservice industry to support ongoing expansion in the foodservice market. Micro Matic, the world's leading manufacturer and supplier of dispensing equipment, provides all the equipment necessary for serving quality kegged beer and wine, including underbar refrigeration and stainless steel back bar equipment.
John Hickey, Foodservice Director for Micro Matic, stated: "We are excited about these talented additions to our sales team. The combined career experience of these individuals is over 73 years in foodservice equipment. This team will enable Micro Matic to continue to grow in the foodservice market."
Ed Wigley was an account executive with Advantage Waypoint where he represented a number of clients including Carlisle, Dinex, Nemco and Waring. Ed has a combined career experience in the foodservice industry of over 28 years. Ed's territory is Virginia, Maryland, and the District of Columbia. "I'm a flexible, dependable team player, motivated to provide excellent customer service," says Ed.
Jeff Flynn brings over 15 years of foodservice and beverage sales experience. Jeff was the Vice President of Sales & Marketing for Johnson Diversified Products for over six years. Jeff brings a strong creative sense with a goal-focused, organized approach to meeting the customer's needs. The states of Minnesota and Wisconsin are Jeff's territory.
Matthew Bee was recently the regional sales manager for Lolo Products/Unified Brands, Inc. and previously with Rational USA. In addition to a being a Certified Chef, Matthew brings over five years of foodservice experience with him. He is also a proud U.S. Marine veteran, having been awarded the combat action ribbon and combat valor medal. Matthew's territories are the states of Ohio, Michigan, and Indiana.
Loucretia (Lou) Woosley was formerly with Heritage Food Service Group, Inc. and brings over seven years of foodservice equipment experience that includes account management and manufacturing of large equipment. Lou will be traveling the states of Georgia, North Carolina, South Carolina, and Tennessee. "I believe my key to success over ten plus years is building relationships, working hand in hand with individual customers, chain accounts, dealers, and manufacturers," says Lou.
Trish Best, after eight years as a project manager with the Commonwealth of Pennsylvania, transitioned to a state contract liaison position with Singer Equipment Company. Trish brings strong organizational and administrative skills paired with a design engineer background to analyze the performance and efficiency of products. Trish will be traveling the states of Delaware and Pennsylvania.
Leanne Porter brings over nine years of foodservice experience from both the manufacturer and representative sides. Personal relationships are key to Leanne's high standard of customer service and project management. This has led to her double digit sales increases year in and year out. Northern California and northern Nevada are the areas Leanne will be traveling.
Amanda Bedian was with Saratoga Restaurant Equipment Sales and responsible for 100+ key accounts in upstate New York. Amanda consistently delivers with attention to detail and positive relationships. Working on a number of projects at once and bringing them in on time and within budget are hallmarks of Amanda's skills. Upstate New York is the sales area Amanda will be traveling.
All seven new hires have completed the Micro Matic Dispense Institute Advanced Draft Training course. This intensive hands-on lab classroom is dedicated to improving draft beer quality through education. They gleaned insights from field-trained instructors, and they'll be able to leverage these instructors when additional knowledge is needed to install and service draft beer systems. Micro Matic has a company policy of the team supporting one another to find answers and solutions for customers.
The goal of this sales team is to specify the equipment on-premise operators require to deliver quality glasses of draft beer or wine. Whether it's an order for a 300 foot beer system with a ten faucet tower, a Pro-Line Wine dual temperature dispenser, or the right keg coupler for an import or craft beer, it's important that each order ship with the right equipment to meet the customer's needs.
In addition to the new hires, the Micro Matic sales team includes the following representatives:
Pat Elwood: Texas
Tom Ginthner: Connecticut, Massachusetts, Rhode Island
Lynn Koch: Hawaii, New Mexico
Dillon Moore: Alaska, Utah
Janine Neuschwander: Arkansas, Iowa, Kansas, Kentucky, North Dakota, Nebraska, Oklahoma, South Dakota
Ron Oyer: Colorado, Idaho, Oregon, Washington
Jason Prugar: Maine, New Hampshire, Vermont, West Virginia
Megan Rojas: Montana, Wyoming
Brandy Schoonover: Alabama, Florida
Toby Seymour: Illinois, Missouri
Kim Ward: Louisiana, Mississippi
Doug Wetmore: New Jersey, New York (Metro)
For more information about Micro Matic, visit http://www.micromatic.com, contact a Micro Matic sales representative by calling (866) 327-4159, or connect with us on Facebook and Twitter.
About Micro Matic USA, Inc.
Micro Matic is the world's leading manufacturer and supplier of keg valves and dispensing equipment in over 120 countries. Serving the U.S. market from four fully stocked regional warehouses staffed with knowledgeable personnel and a national network of certified installers, Micro Matic also operates the Dispense Institute where field-trained instructors conduct hands-on draft beer dispensing courses, as well as on-site workshops. In addition, the company website offers a wealth of dispensing information "white papers" along with interactive video presentations.
Company Information:
Micro Matic USA, Inc.
19791 Bahama Street, Northridge, CA 91324 USA
Phone: 818-882-8012
FAX: 818-341-9501