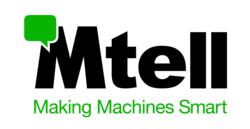 San Diego, CA (PRWEB) July 09, 2013
Mtelligence Corporation, the pioneer of machine learning applications for industrial equipment, announced a name change to Mtell and the introduction of the new Mtell Suite. A new name, a fresh new look, and new tagline showcase the product features in the simultaneous launch of the website at http://www.mtell.com. The new branding and software innovation are the positive outcome of increased leadership recognition, an expanding worldwide footprint, and record growth.
Mtell provides an equipment health management solution, based on machine learning, to prevent equipment failures that cause production losses, environmental issues, and safety incidents. The product also includes features and services to enable complete maintenance program optimization.
"Our rebranding and new product features are the outward signs of the significant transformation we have made," said Chief Executive Officer Paul Rahilly. "Customers are gravitating towards us because our technology delivers a promising lead over our competitors. It makes sense to remove the acronym clutter that pervades other solutions, and this change makes it much easier to understand what we do and why it is truly valuable. These new changes allow us to continue growing and represent an important step that seems to be resonating with our customers, and will enhance the overall communication of our value proposition."
The company's new tagline "Making Machines Smart" represents Mtell's vision to challenge old ideas. Instead of routinely scheduled maintenance, Mtell "smart machines" can request assistance only when they need it. This methodology improves safety, removes risk, prevents failures, and improves plant operations. The rebranding also introduces the Mtell Suite with refined features for alerts and notifications, including rich emails with embedded trends and text messaging. The upcoming Mtell cloud enablement will provide cost savings to new and existing users. Mtell is also adding comprehensive visualization of machine health across remote sites and fleets of equipment, in addition to mobile applications for Android and iOS users.
About Mtell
Founded in 2006, Mtell is a privately held company providing software solutions for managing the health of industrial equipment. Making machines smart, Mtell plays an important role in developing the industrial internet. In addition to reducing risk to people safety, and the environment, Mtell is a significant contributor to equipment performance and profitability. Solutions are deployed globally in the oil and gas, mining, pharmaceutical, and wastewater industries.