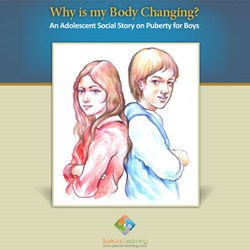 Chicago, IL (PRWEB) July 09, 2013
Special Learning Inc., the leading global provider of mobile technology applications and educational resources for the special needs community, announced today a new series of social stories on Dating and Human Sexuality, written for adolescents and young adults with Autism Spectrum Disorder (ASD), Down syndrome and other developmental disabilities.
Special Learning's newest products for individuals with special needs teach foundational social and communication skills on common adolescent topics related to puberty, dating, human sexuality, and safe sexual practices.
"The rise in prevalence of Autism and other developmental disabilities in children has necessitated parents and educators to seek helpful teaching tools that cover all of life's phases
as their children enter adolescence," said Karen Chung, Founder and Chief Executive Office of Special Learning. "Special Learning has developed this unique set of social stories to help guide adolescents in coping more independently in not only learning to manage their own physical well-being and appearance but also cope with the mental and emotional changes that come with this transitional stage of their lives."
Based on the concept created by Carol Grey, social stories are short illustrated books that help teach individuals, affected by ASD and other developmental disabilities, the specific social "rules" or "norms" that are generally accepted in society. These simplified stories help individuals with ASD understand how to respond to life events and learn to communicate
The first three titles in the series are available in multiple digital and downloadable formats.

Why is my Body Changing? A social story on puberty for girls
Why is my Body Changing? A social story on puberty for boys
Following Safe Sexual Practices: Using Contraception
Each social story provides accurate illustrations and simplified text to help teach adolescents and young adults with special needs how to understand and care for their changing body, how to handle human sexuality safely and appropriately.
With the release of this new product, Special Learning, Inc. continues its mission to make a positive impact in the lives of those individuals affected by ASD, Down syndrome, and other developmental disabilities around the globe.
For additional information on Special Learning's Dating and Human Sexuality social stories series please visit http://www.special-learning.com/store.
To view other Special Learning products and resources and to obtain additional information about how Special Learning provides educational materials and support to the autism community visit http://www.special-learning.com.
About Special Learning, Inc.
Special Learning is the leading global provider of autism and Applied Behavior Analysis (ABA) solutions. Special Learning designs mobile applications and educational resources based on clinical evidence-based research to ensure that every person diagnosed with Autism Spectrum Disorder (ASD) is capable of attaining an abundant and fulfilling life. Through its comprehensive web portal, Special Learning provides the global autism community with a range of ABA training and educational products, web-based and downloadable tools and professional services to empower parents, teachers and providers so that they can help individuals with autism move up the skills spectrum intuitively, successfully and affordably. Follow Special Learning on Facebook (http://www.facebook.com/speciallearning) and Twitter (https://twitter.com/speciallearning).