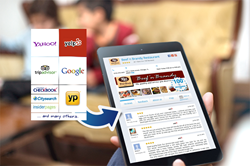 I'm amazed at how quickly Bazaarify set us up to monitor and amplify our good reputation.
Sunnyvale, CA (PRWEB) July 09, 2013
Bazaarify, an emerging leader in Business Reputation Management (BRM), today announced that Beef & Brandy Restaurant and Bar, a long-time fan favorite in Chicago, IL, has selected the Bazaarify platform to gather, monitor and amplify customer reviews.
By most standards in the brick-and-mortar world of business, Beef & Brandy Restaurant and Bar in Chicago holds an enviable position. Nestled neatly in a busy urban neighborhood of high rises, commerce, hotels and some of the city's most popular attractions, the restaurant is blessed with a sustaining mix of locals, business folks and tourists. Its popular American-style menu, honed through the years to appeal to the taste demands of its clientele, is fairly priced and quality-conscious. So, it's no surprise that generating positive word-of-mouth, in particular online reviews, has not been a problem for Beef & Brandy. Keeping tabs on all the reviews, however, was.
"When we bought the business seven years ago," said co-owner Steve Salameh, "our main objective was to embrace technology and online presence. We wanted to keep the restaurant's reputation strong both offline and online while improving the services incrementally. Our challenge was that online customer reviews were pouring in from multiple sites and we could not keep track of this valuable feedback. Our customers posted feedback to sites that we didn't even know existed. Bazaarify's platform solves that problem by aggregating all our reviews in one place for easy access. The platform makes my life easier and allows me to focus on customer service."
"As the next-generation Business Review Management (BRM) platform, Bazaarify helps businesses gain instantaneous access to customer reviews across the web," said CEO Naveen Gupta. "By aggregating reviews from major social sites like Yelp, Google, Yahoo, Trip Advisor and CitySearch, and smaller sites like personal blogs and web pages, then promoting the positive feedback automatically to Facebook and search engines, businesses benefit with more leads and more referrals. Our goal is turn social media into a business asset."
"Naturally, our aim is to generate more business for the Restaurant and Bar, and leveraging positive reviews is key to our strategy," Salameh continued. "I'm amazed at how quickly Bazaarify set us up to monitor and amplify our good reputation, allowing us to highlight our best reviews on our website, Facebook fan page, and new SEO-optimized Bazaarisite. Now I'm able to monitor our customer feedback day or night, whether I'm at the restaurant or out on the road."
Availability
Bazaarify's all-inclusive service includes a 30-day free trial that requires no credit card. Call sales at 1-800-561-3357 or sign up at http://birdeye.com
About Bazaarify
Bazaarify is an innovative Business Review Management (BRM) platform that creates powerful yet affordable tools so businesses can proactively listen to their customers, act upon feedback, and promote their good reputation across the web, social media networks and search engines. The company is based out of Sunnyvale, CA and led by entrepreneurs with diverse backgrounds in Internet and social media from Silicon Valley companies such as Yahoo, Google, Amazon, and Cisco.
For more information, contact William Moeller
william(at)birdeye(dot)com | 408-457-1348 | 1-800-561-3357 | http://birdeye.com