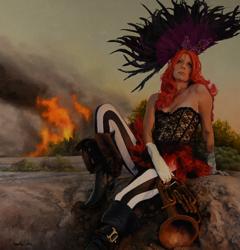 "...And over in
The burnt yellow tent
By the frozen tractor, the
Music was like electric sugar.." -Tom Waits
Santa Fe, New Mexico (PRWEB) July 10, 2013
Pamela Wilson's works of art transcend the commonplace to enter the realm of the sublime and otherworldly. She develops haunting images that evoke moods and memories inspired by real life, and which create a remarkably compelling narrative. The physical and emotional isolation of her characters has emerged as a hallmark of her work. She has much to say of the dark and hilarious absurdities we must often endure... while we are creating ourselves.
Primarily a figurative painter, Wilson has worked in many other mediums, including photography, printmaking, and assemblage. She received her MFA from the University of California, Santa Barbara, where she was awarded a Regents Fellowship, the Abrams Project Grant, and a Regents Award for her Thesis Exhibition. She is currently Mentor Faculty at Laguna College of Art & Design, Laguna, CA, as part of the MFA Program.
Focusing on this show, Pamela states, "I can't seem to get to work without (the right) music to put me into my other world, my cell, my small, rich warbling world. In my work, there is a tension between the real and the unreal. I paint realistically, so one has to take the image at face value, but the dreamlike space, the content, the people in my paintings, and the objects all hold important, otherworldly jobs. Music is the great enabler; lyrics speak for us, to us. I love the idea of suggesting music visually- when actual sound is not available. I have always listened to music while I create scenarios, and paint them, and I choose which music shall be my guide- once I decide where I want to go..."
Reverently she continues, "I am in love with old objects, for the stories and emotions they hold and offer as I incorporate them into my paintings. Musical instruments are my favorite, as they lend a little more information than an 'ordinary' object. I listen to a variety of music, especially old, rich, new-to-me lovelies- wherever and whenever I come upon them. I always have my eyes and ears open, my brain on the ready.. Old instruments find me. They have lived a higher, busier life, as it were, and speak a universal language. Music haunts me. I can't make the instruments play for my viewer, but I can suggest that they still croon by including them as important members of my story."
"Not only are these old tweedlers and whiners physically beautiful, displaying effortlessly the amazing workmanship of their makers, but the brasses, the patinas, the aging woods, the nuts and bolts, the complexity and oddness of form, the magical math and vibration, are also connotations of a larger orchestra of meaning- the gestalt of a heightening serenade. When I see an old, weathered trumpet, I hear an old, weathered trumpet; it plays in my head while I view the work I am painting, the new 'home' of that particular instrument- adding implied vintage music to the final piece. I always hope that the viewer hears what I hear. The old ship's horn, the eerie violin, the old warped piano, or the muted trumpet, for instance, provide the atmosphere, the musical backdrop to a painting. An old calliope recalls for me the dustbowl circuses and sideshows of the 1930s. It helps me recall the ghosts of that era, the music of a sometimes harsh, sometimes magical time that has so informed the present, and so titillated me. Suggesting a soundtrack for one of my paintings is a great thrill, another exciting opportunity for communication, and I consistently endeavor to better enhance that connection. I can't tell the viewer that there is an old song playing in my work, so I try to work within the visual realm to suggest it."
"To create a musical element to my paintings is a strange and complex task. In general, I try to move people into a sublime imaginative state where self reflection may take place, and (suggested) music is a tool that continues to intrigue me, and challenge me. Covert sensuality, a sense of nostalgia, brooding, unspoken sorrow, hope, joy, and fear are all in my paintings, and a part of me. I want/ music to help me express these mixed and complex emotions, and these lovely, dying instruments still have tales to trill."
Do not miss this riveting exhibition that will leave none of those who experience it without an intense emotional response ~ positive, negative or confused. View Pamela's film produced earlier this year for a clue as to what you will see at this exhibition!
EVOKE Contemporary invites you to experience the distinctive, diverse art scene and multicultural heritage of the historic downtown Santa Fe Plaza with a riveting line up of events and exhibitions. The focus of the gallery is to showcase provocative and compelling art of international acclaim. All events open on the First Friday of each month along with the celebrated First Friday Art Walks in the Downtown Arts + Museum District.
EVOKE Contemporary and the Downtown Arts and Museum District has grown and evolved to becoming one of the most prestigious cultural destinations for art collectors worldwide. The foremost galleries in the contemporary art world along with seven renowned museums are easily navigated in downtown Santa Fe. Savvy travelers and locals alike are familiar with the cosmopolitan flair to be experienced at any of the award-winning restaurants within this romantic, walking district. The deep-rooted history and culture of Santa Fe is preserved and celebrated in the Downtown Arts + Museum District through a diverse array of museums, galleries and world-class shopping.