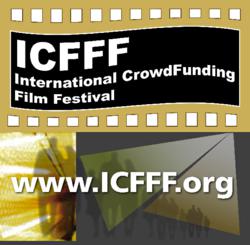 There is this incredible untapped opportunity for film audiences worldwide to directly anticipate in the next generation of filmmaking.
Los Angeles, CA (PRWEB) July 09, 2013
The Los Angeles Crowdfunding Film Society will have its first meeting this Wednesday night. The "meetup" is open to the public and is sponsored by The International Crowdfunding Film Festival(ICFFF.org). The event will begin at 7:00 pm and is being held at The Cat & Fiddle, in Hollywood.
"It's worked for Zach Braff, "Veronica Mars" creator Rob Thomas, James Franco and other celebrities and there's no reason why ordinary filmmakers and creatives can't also utilize crowdfunding to bankroll their projects," stated Philip Cardwell, Co-Organizer and leader of the LA group.
Who will benefit by participating?

Independent Artists that want to learn about the opportunities crowdfunding creates for them
Art and Film Students interested in getting involved in or thinking about financing their new project
Journalists and business bloggers searching for worthy topics
Anyone who is considering supporting crowdfunding film projects
"When it comes to marketing their crowdfunding campaigns, celebrities have huge fan bases and therefore can bring the world's attention to their project. Typically, ordinary people don't have this advantage. Realizing that we collectively have the ability to harness crowdfunding campaign management, marketing and social media, we're championing new and innovative methods for film finance that integrate crowdfunding. The Los Angeles Crowdfunding Film Society provides an excellent means for people to network, share ideas and benefit from the experience of others," Cardwell concluded.
"There is this incredible untapped opportunity for film audiences worldwide to directly anticipate in the next generation of filmmaking. Crowdfunding gives the crowd a voice in the future of entertainment," stated John Michael Scott, Co-Organizer and Founder of IndieFund.it
While meeting groups are planned in other major cities, over 100 other industry participants have already joined the new group in Los Angeles alone.
Additional details can be found on the group's Los Angeles Meetup page.
ICFFF.org brings together artists, filmmakers, and video game creators to join the crowdfunding phenomenon. The group provides the unique opportunity for film screenings, workshops, and discussions with industry experts. Attendees will hear from filmmakers who are currently implementing crowdfunding as a part of their current fundraising and marketing efforts.
About The Companies
IndieFund.it is a boutique creative agency providing crowdfunding campaign management services as well as assisting crowdfunders in the development and delivery of a well-founded campaign model. IndieFund.It assists companies in all facets of campaign definition, planning, pre-launch, launch and post-launch activities. Bringing together a best in class team providing social media strategy, media production, campaign production, business planning, strategic marketing and crowdfunding expertise - IndieFund.It is committed to small business crowdfunding success.
Universal Media Consultants, Founded by Philip Cardwell, is an advertising and marketing agency that provides an innovative way for clients to gain maximum exposure for their message. Currently, UMC is highly active in the crowdfunding space.