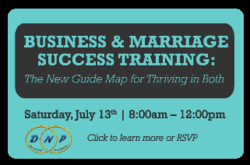 "Our mission is simple. To help married entrepreneurs and their spouses find joy and satisfaction together while running a business." - Don Purdum, DNP Business and Marriage Experts
Dallas, Texas (PRWEB) July 09, 2013
The business and marriage experts of DNP (http://www.donpurdum.com ) are offering a new, live workshop to help entrepreneurial couples navigate the challenges of running a successful business while maintaining a healthy marriage – a feat difficult for even the healthiest of relationships.
"Business And Marriage Success: A Guide Map for Entrepreneurs," presented by DNP, and co-sponsored by Build.Buzz.Launch. Media and Publishing (http://www.buildbuzzlaunch.com) will be held from 8 a.m. to 12 p.m., Saturday, July 13, 6301 Gaston Avenue, Dallas, TX. The event is on the conference level of the Wells Fargo Bank Tower in Lakewood. Cost is $35, or $55 per couple. Register online here http://tinyurl.com/pz4jw4a .
"When starting a new business, many entrepreneurs don't understand the inherent challenges and blind spots that can wreak havoc on your business, your life, and your family," said Don Purdum, "We developed this live training event to provide real-life solutions and techniques for meeting those challenges and realizing success in both the marriage and the business. Because, if you lose your family, you will lose your business!"
With over 30 years' combined business ownership, Don Purdum, his wife, Nicole, and DNP business partner, Kathy Brandon, will reveal techniques and strategies to help the new business owner in a start-up company get ahead of the curve. "You'll walk away from this training with practical tips to help you and your family avoid the pitfalls that lead to separation or divorce," said Brandon.
Attendees will learn will learn DNP's proven, practical steps to position a new or young company for success while maintaining a healthy, happy marriage.
"Everyone will take away specific actions that can be utilized immediately to help grow their business and make their marriage more solid and satisfying," added Purdum.
The half-day event also includes an all-star panel of experienced business owners to provide resources and counsel for start-up companies. Panelists include: Leann Garms, Public Relations Expert, Publicist and owner of Build.Buzz.Launch. Media & Publishing; Kisha Allen, Networking Expert and Director of Member Services at the Garland Chamber of Commerce; Clint Fuqua - Physical fitness expert and trainer; Ken Pearson, Customer Resource Management (CRM) expert, President and Co-Founder of Mothernode CRM/ERP.
"Our mission is simple," said Purdum. "To help married entrepreneurs and business owners and their spouses find joy and satisfaction together while running a business."