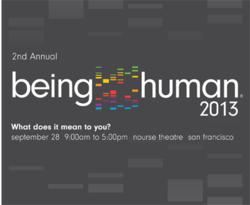 SAN FRANCISCO, CA (PRWEB) July 09, 2013
Beinghuman.org has announced that the upcoming Being Human 2013 event on Saturday, September 28, 2013 will include a tantalizing exploration of the future of humanity in a segment entitled "The Future of Being Human." The segment will feature acclaimed neuroscientist David Eagleman, philosopher/technologist Natasha Vita-More and information designer Jer Thorp at the day-long event taking place in the newly renovated Nourse Theater in San Francisco's theater district.
Offering a deeper understanding of what it means to be human from a variety of scientific, philosophical and evolutionary perspectives, the second annual Being Human event is being presented in collaboration with KQED, the Long Now Foundation, and Wikimedia Foundation. The "Future of Being Human" segment will follow other segments that will focus on "The Biology & Psychology of Ethical Behavior," "Human Emotions," and "Love & Sex."
"We are at a unique place in history to be looking at what lies ahead for us as a species. The tools and data we now have at our disposal allow us to study ourselves in exciting new ways," said Jeff Klein, Executive Director of the Baumann Foundation. "The insights offered by these extraordinary thought leaders will stimulate deeper exploration and inquiry into the nature of being human and the future of humanity."
David Eagleman, PhD. is a neuroscientist, bestselling author, and the Director of Baylor College of Medicine's Initiative on Neuroscience and Law, where he studies how new discoveries in neuroscience can inform the way we make laws, punish criminals, and develop rehabilitation. He says, "It turns out your conscious mind — the part you think of as you — is really the smallest part of what's happening in your brain, and usually the last one in line to find out any information. Given that we are not in conscious command of most of the brain networks controlling our behavior, how can we be held responsible for our actions?" Eagleman argues that the only rational course is to ask "What can we do from here?"
Natasha Vita-More, Ph.D. is a philosopher, designer, author, and professor at the University of Advancing Technology, whose research concerns the evolution of intelligent life beyond the current human biological form. By means of science and technology, her work addresses human limitations that are guided by ethical, life-promoting principles and values, such as ways to extend life, eradicate aging, solve problems of disease, and promote intellectual, creative, physical and mental well-being.
Jer Thorp is an information designer and innovator, and was formerly the data artist in residence at the New York Times. His work focuses on adding meaning and narrative to huge amounts of data as a way to help humans take control of the information that surrounds them. Thorp's software-based art, that brings big data sets to life, is deeply influenced by science, and has been featured all over the world.
To purchase tickets and to learn more about these and other featured speakers and presenters at the Being Human 2013 event, visit beinghuman.org/2013.
Suggested keywords: David Eagleman, Natasha Vita-More, Jer Thorp, Being Human, future, humanity, neuroscience, evolution, Nourse Theater, Baumann Foundation, Peter Baumann, Ethics & Behavior, Human Emotions, Love & Sex
END - XXX
ABOUT BEING HUMAN AND THE BAUMANN FOUNDATION
Being Human is an initiative of The Baumann Foundation that fosters an ongoing exploration into the nature of human experience from evolutionary, scientific and philosophical perspectives. By creating environments for learning, connection and conversation, including public and private events, publications and a website, Being Human invites all people to discover a deeper understanding of our human nature. For more information please visit Beinghuman.org and thebaumannfoundation.org.