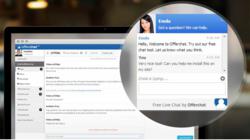 Launching the new site is the first step towards rediscovering Offerchat live chat.
Dover, DE (PRWEB) July 09, 2013
Offerchat, a widely adapted live chat support for business and eCommerce shops, has launched a new website in an effort to provide a refreshing, more streamlined homepage to both existing users and the general public.
The new Offerchat website combines ease of use and comprehensive information for those who'd like to explore live chat support at its fullest.
Launching the new site is the first step towards rediscovering Offerchat on the premise that a website is the today's hot spring of a company's identity where all information about the company can be obtained, including that of its products and services.
For nearly a year on beta phase, the live chat tool has undergone rigorous development stages to render it scalable and sustainable for its steadily increasing user base.
The new Offerchat website showcases:

How live chat works
Advantages and benefits
Hire an Agent
Blog
Access the chat dashboard
Business and eCommerce shop owners can add their very own live chat widget to their websites by signing up for an account at the new http://www.offerchat.com
Adding a chat widget to answer customer inquiries takes less than five minutes to save user's time. New users have the option to embed the chat widget themselves or send it to their webmaster in a single click.
Users only need to login with their newly created Offerchat account on the Offerchat website to make the chat on their own sites appear online and reply to incoming chats from their visitors and online customers. Chatting with customers can be done using any supported browser and device; no special software has to be downloaded and installed.
About
Offerchat live chat is for online retailers, sellers, startups and web app companies who must convert more visitors to actual buyers and users. It is a new way of handling live chat by providing not only a powerful free tool, but also the trained staff to answer chats to effectively close more sales.