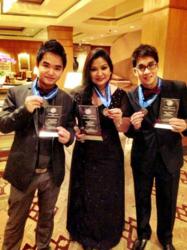 We are not only multilingual but we are also a multitasking contact centre.
(PRWEB) July 09, 2013
PETALING JAYA, 9 July 2013: Prominent Asian direct selling company, QNET, bagged a gold and two silvers at the recent Asia Pacific Contact Centre World top ranking performers annual awards 2013 held in Singapore.
QNET's Global Head of International Support Centre, Pushpalatha Balan received the gold award for Best Small Contact Centre while the silver awards were bagged by Michael Sia for Best Operations Manager and Kelvin Chin for Best Supervisor.
All three are staff members of the Malaysian-based QNET Global Support Centre housed at the QI Tower. QNET is the international flagship subsidiary of the QI Group of Companies.
Winners were selected through a comprehensive balanced scorecard of self-assessment benchmarking, business case presentations, mystery calls, site assessment by the judging panel, public web-voting and a final round of judging by a panel of customer relationship excellence experts.
Last year, QNET's Global Support Centre bagged two coveted gold awards in the 2012 Top Ranking Performers in the Contact Centre World Awards held in Las Vegas, US.
An elated QNET Chief Executive Officer, Dave Osh said winning the gold and silvers at the Asia Pacific awards 2013 is yet another testament to the company's continuous commitment to revolutionising the customer experience.
"We have a unique culture of service in QNET. We engage our customers at the deepest level and provide a suite of proactive services that cannot be necessarily measured objectively using the usual standards of service level agreements, KPIs etc. We focus on developing a group of professionals whose main aim is to help make our customers successful," adds Dave Osh.
QNET's Global Support Centre or better known as GSC is the heartbeat of the company. It is a 24/7 Multilingual Contact Centre, where a team of professionals serve the customers in 27 different languages throughout the year. In order to support multiple languages, the team is made up of personnel from 18 different countries.
"We are not only multilingual but we are also a multitasking contact centre. Our range of services includes handling inbound and outbound calls, replying to email queries, managing the online CRM platform, handling walk in customers, handling enquiries through social media, providing translation services, conducting face to face as well as webinar trainings for our customers and supporting any events or conferences organised by QNET," explains Pushpalatha.
About QNET
As a prominent Asian direct selling company, QNET provides a wide range of life enhancing products that are offered through its proprietary e-commerce platform to customers and distributors in over 100 countries. The company also has some 25 offices and agencies worldwide, and more than 50 stockists, apart from localised operations or franchisees in a number of countries.
QNET is a member of the Direct Selling Association of Malaysia, Singapore, and the Philippines. QNET is also a part of the Hong Kong Health Food Association and the Health Supplements Industry Association of Singapore among others.
QNET is active in sports sponsorships around the world, including Formula 1, football, badminton and more, due to the company's strong belief that the drive, passion and teamwork of sports mirrors that of QNET.
For more information, please visit QNET's website at http://www.qnet.net.