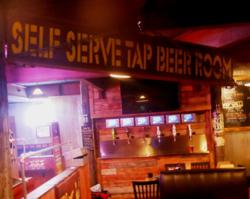 Draft beer waste and giveaway behind most bars is north of 15% in most cases. Their systems make that number go to zero. Sounds like the right play this year for bar owners nationwide
Baltimore MD (PRWEB) July 09, 2013
Maybe it's the increased temperatures or the Mid-Atlantic tropical climate these past few weeks but something has made pourmybeer.com announce an promotional deal on their self-serve beer tables and beer walls for bar owners looking to beef up their lineup for the upcoming NFL and NCAA Football seasons.
"There has been a natural spike in our business in the third quarter for the last two years, so we wanted to maximize this organic lift by offering discounts on deposits received in July," says Josh Goodman, co-owner and founder of pourmybeer.com, "We have customers telling us they've seen a return on their investment within weeks of our products arrival". He went on to say, "Customers are happy to pour their own beer, especially if they are watching their favorite team with friends. I, for one, would rather do that than be interrupted for a drink order during a big play or have to wait for a drink if the place is packed, as it usually is on game day."
Customers can walk up to one of their units and, with an RFID wristband or card they get from their servers or bartenders, they pour their own beer. They can do so up to a limit of two beers so customers maintain responsible consumption. The RFID chip in the wristband or card is tied to a database onsite that shows what has been poured for that visit. When they are done, they simply check-out and they are given a print-out receipt for what they have poured. Touchdown!
"We have always had a late August rush of people wanting to purchase a table or beer wall the following week as football season gets underway," said Declan Duggan, Goodman's business partner, "but there is a four - six week lead time on production, so we decided this year we would reward the early birds with 50% off shipping and installation fees. That way maybe we can get more units out there so less people are waiting for beer this football season. We are football fans too you know," he concluded.
The mobile beer walls are proving their most popular item as they are essentially 'filling stations' for customers. They check in, pour and go. They also offer a dual temperature wine wall so that wine drinkers are not left out of the lineup. With two temperature zones they can offer two red and two white wines by the glass.
Goodman and Duggan also highlighted some of the benefits of their systems to bars in general. They claim that draft beer waste and giveaway behind most bars is north of 15% in most cases. Their systems make that number go to zero. Sounds like the right play this year for bar owners nationwide.
http://www.pourmybeer.com is an Innovative Tap Solutions Company. The company was formed in MD in 2008 and made the first commercial mobile self-serve beer tables in the US. It also sells and distributes fixed beer walls, mobile beer walls, fixed draft tables and mobile draft self-serve tables. All mobile equipment is made in the USA. Contact sales(at)pourmybeer(dot)com or call 215-219-9203/443-691-2337.