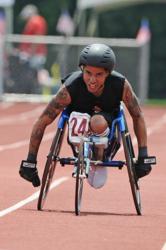 The Community is invited to come out and cheer for our nation's wheelchair athletes during the 33rd National Veterans Wheelchair Games in Tampa July 13-18
Tampa, FL (PRWEB) July 11, 2013
More than 650 wheelchair athletes across from the U.S., Great Britain and Puerto Rico have registered and are expected to compete in 18 medal-awarding athletic events and two exhibition events to be held at various venues across the city July 13-18. This is the second time the Games have been held in Florida; Miami hosted them in 1991.
During this special event, several Veterans who are competing in the Games will demonstrate their skills in an adaptive basketball exhibition that pits the wheelchair athletes against a "celebrity" team comprised of leaders from the James A. Haley Veterans' Hospital and local news media.
WHAT: 30-minute event that officially kicks off the Wheelchair Games
WHEN: Saturday, July 13, 2013 - 11:30 a.m. to Noon
WHERE: Tampa Bay Times Forum (Patio), 401 Channelside Drive, Tampa
The Community is invited to come out and support the athletes during the many events happening in Tampa. More information is available here: http://www.wheelchairgames.va.gov.