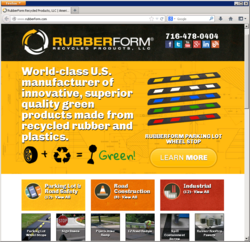 The primary goal was to make the usability of RubberForm's site more user-friendly to the consumer. With this new website, we feel we've done that.
Lockport, NY (PRWEB) July 09, 2013
RubberForm Recycled Products LLC is proud to announce the launch of its new website. The Lockport, N.Y. manufacturer of exceptional, eco-friendly green products for a variety of markets has re-designed its corporate website.
RubberForm made the upgrade to a more interactive site for easy use by its customers. Their previous website, launched in 2008, became antiquated. The new website offers a unique experience for customers, including more high-resolution product images. An exciting addition, the new website is compatible for mobile web browsing with handheld devices and tablets.
RubberForm Recycled Products is a world-class manufacturer of innovative recycled rubber and plastic products made from U.S. scrap tire rubber and recycled plastics. With a diverse industrial product line, RubberForm has products that can be used to address needs in the road safety, pipeline, industrial safety, commercial roofing and various other industrial applications.
Their products are a cost-effective, durable and an attractive alternative to the standard concrete or virgin plastic products, both of which have issues with cracking, breaking down over time and needing to be replaced after only a few years. Products made from their proprietary recycled material formulations present long-term solutions to these issues, as they are resistant to temperature variations, moisture damage, UV light, oils, fuels, and salts.
RubberForm Recycled Products, LLC is a proud member affiliate of the U.S. Green Building Council, Greenspec and the New York State Parking Association. For information please visit the improved website at http://www.RubberForm.com.
About the company:
RubberForm Recycled Products is a world-class manufacturer of innovative green products made from recycled scrap-tire rubber and recycled plastic. GreenSpec listed for LEED green building certification. EPA Enviromentally Preferred Products. RubberForm manufactures products for parking lot and road safety, road construction, industrial applications, home improvement, vehicular & shipping safety and commerical marine applications. RubberForm products are sourced from U.S. recycled materials & manufactured by American workers in the USA.