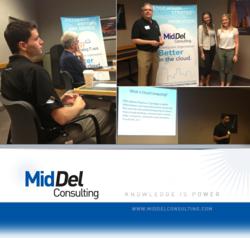 Minneapolis, MN (PRWEB) July 11, 2013
On Friday, June 21, 2013 MidDel Consulting hosted an informative seminar called "Understanding the Cloud". The objective was to create a comfortable environment, avoid intimidating technical jargon, and deliver an overview of how the Cloud compares and differs from more standard infrastructure models.
"MidDel Consulting has expertise on Cloud computing and we understand the benefit for your business," said Doug Rusk, MidDel Director of IT Business Development. "We need to extend our message to more businesses so they can better understand the value that Cloud computing can bring to their operations. Our partnerships enable us to educate, design, implement, and support Cloud deployments across many different business models."
Cloud computing, also known as "hosted solutions", eliminates the need for organizations to manage hardware, software, and upgrades. Data is safely stored on secure and redundant off-site servers.
The seminar was well attended and the expert panelists maintained a light and relevant atmosphere while they shared knowledge and information on how MidDel Consulting can deliver reliable and secure Cloud solutions. Attendees learned the definition of the Cloud, reasons they should consider migrating to it, and how the Cloud can uniquely assist in meeting each business' needs.
"Some of the most compelling reasons a business should consider migrating to the Cloud include off-site system accessibility, reduced expenditures and support costs." added Doug. "Immediate benefits are realized by replacing internal systems with remotely managed systems. This means the client no longer worries about upgrades, patches, and maintenance. It's a very strong value proposition."
Some of the participants had the following to say:
"The presentation was good for a person who doesn't know about the Cloud – I would like to know more about troubleshooting."
"Very good information and presentation on the Cloud."
"The Cloud is here to stay: remote, secure, and cost-effective! Clearly, it is a silver lining."
MidDel is planning future seminars to provide additional information on the Cloud and other pertinent technology subjects in which their clients will find interest.
About MidDel Consulting
Headquartered in Minneapolis, Minnesota, MidDel Consulting has been providing expert-level consultants for the Information Technology, Finance, and Energy sectors since 2005. MidDel Consulting specializes in supporting challenging projects utilizing the "best of the best" senior-level consulting talent from the United States and Canada. MidDel Consultants understand your business and help bridge functional and technical assets in your operations.
For more information call MidDel Consulting at (952) 500-9340 or visit our website http://www.middelconsulting.com or email us at info(at)middelconsulting(dot)com.