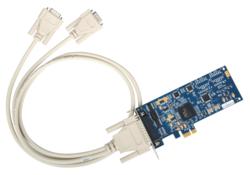 Liberty, SC (PRWEB) July 09, 2013
PRODUCT FEATURES

Powerful 16C950 UART provides 128-byte FIFOs
Oscillator and clock prescalar support wide range of baud rates
Supports 9-bit protocol framing and data rates to 921.6K bps
Includes 36" cable with DB25 Male connector to two DB9 Male connectors (Item# CA203)
Fully compliant with all PCI Express X1 slots
Supported in Microsoft Windows and Linux operating systems
Sealevel Systems announces the 7202e, a new low-profile, two-port RS-232 PCI Express serial interface adapter with advanced UART architecture. For maximum compatibility with a wide range of serial peripherals, the board supports all RS-232 modem control signals, making it a perfect solution for interfacing instrumentation, barcode readers, and other data acquisition/control devices.
The 7202e's high-performance 16C950 UART includes 128-byte FIFOs for error-free operation in high-speed serial applications. Additionally, the UART supports 9-bit framing and is fully software compatible with legacy 16550 UART applications. The board includes a 14.7456 MHz oscillator and provides a flexible clock prescalar to support the widest range of standard and non-standard baud rates up to 921.6K bps. The 7202e is PCI Express X1 compatible and will work in any PCI Express slot.
All Sealevel PCI Express serial adapters include SeaCOM software for Windows and Linux operating systems. For easy installation and troubleshooting, customers also receive WinSSD, a full-featured application for testing and diagnostics including BERT (Bit Error Rate Testing), throughput monitoring, loopback tests, and test pattern message transmissions.
The 7202e is available immediately from stock priced at $229 for low-profile (Item# 7202e) and full-height (Item# 7202eS) PCI Express slots. Both items ship with a 36 inch cable that terminates to two DB9M connectors. Standard operating temperature range is 0 - +70°C (extended temperature versions operating from -40°C - +85°C are available). Like all Sealevel I/O products, the 7202e is backed by a lifetime warranty.
ABOUT SEALEVEL SYSTEMS, INC.
Sealevel Systems, founded in 1986, provides industrial computing solutions in addition to a variety of communications and I/O products including PCI Express and PCI Bus cards, Ethernet serial servers, and USB serial adapters. The product line includes multi-port RS-232, RS-422/485, RS-232/422/485 multi-interface high-speed sync/async, and digital/relay I/O. For more information visit http://www.sealevel.com or call 864-843-4343.