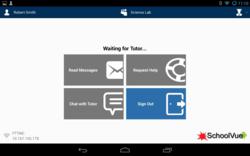 "CrossTec SchoolVue now provides the ideal solution to lock Android tablets during a lesson and to broadcast the teacher screen onto the student's device"
Boca Raton, Florida (PRWEB) July 09, 2013
CrossTec Software has announced the addition of Android student tablet support to its award-winning classroom management and instruction tool, CrossTec SchoolVue (v 11.30).
CrossTec's SchoolVue Android Student enables teachers to interact with their students' Android tablets from their desktop and to provide engaging real-time instruction and management of the popular tablet platform. CrossTec SchoolVue for Android includes chat and request help functionality along with the ability to broadcast the teacher's screen directly to student tablets; lock tablet screens to gain attention; engage students with class surveys; display lesson objectives, and more.
According to IDC (2013), tablet sales worldwide grew 75.3% to more than 128 million units in 2012. Android-based tablets expanded their share of the market and are expected to account for 48.8% of tablet sales in 2013.
"Schools and districts are looking to adopt Android tablets for a variety of reasons including lower costs," said Jeff Richards, Vice President at CrossTec Software. "But early adopters report one of the biggest challenges is the management of these devices in labs. Besides the ability to interact with students, CrossTec SchoolVue now provides technology instructors with the ideal solution to lock Android tablets during a lesson to get the student's full attention, and to broadcast their screen onto the student's device so every student has a front row seat."
The SchoolVue Student for Android App includes:

Student Register: The teacher can request standard and/or custom information from each student at the start of each class and create a detailed register from the information provided.
Connecting to Students: The teacher can either browse for student tablets (from their desktop application) or allow students to connect directly to the relevant class from their Android device.
Lesson Objectives: If provided by the teacher, once connected, students are presented with details of the current lesson, together with overall objectives and their expected learning outcomes.
Sending Messages: The teacher can broadcast messages to one, selected, or all tablet devices. Students receive an audible and visual alert when a message is received and they can then be viewed and managed by the student.
Chat: Both the student and the teacher can initiate a chat session and participate in group discussions.
Requesting Help: Students can discreetly alert the teacher when they require assistance. This sends an alert to the teacher's desktop, enabling them to interact with the student concerned.
Class Surveys: As part of student and classroom assessment, teachers can conduct on-the-fly surveys and quizzes to gauge student knowledge and understanding.
Lock Screen: The teacher can lock students' screens while presenting, ensuring student focus when required.
Show Screen: While presenting, the teacher can show their desktop to connected tablets, at which point students are able to use touch-screen gestures to pinch, pan, and zoom to highlight key information when needed.
Configuration Options: Teachers can choose to pre-configure each Android tablet with the required classroom connectivity settings, or 'push' the settings out to each device from within the SchoolVue program.
Support for Android tablets adds to SchoolVue's powerful cross-platform support and comes on the heels of recent releases for Windows 8 and the Google Chrome OS. SchoolVue v11 added the SchoolVue Teacher Assistant for mobile devices including Android and iOS while CrossTec's Vue X is compatible with Mac and Linux PCs offering many of the same classroom management features as found in SchoolVue for PCs.
The CrossTec SchoolVue Student for Android app is available as a free download for existing customers from Google Play and requires the SchoolVue 11.3 Teacher. For more information on SchoolVue visit crosstecsoftware.com.
Free 30-day evaluations of SchoolVue Classroom Management application can be downloaded at http://www.crosstecsoftware.com/tryit.html, or call CrossTec at (800)675-0729.
About CrossTec Corporation:
CrossTec Corporation, headquartered in Boca Raton, FL, has been a leading provider of software solutions for network security, network management, and classroom management since 1996. CrossTec's mission is to empower IT managers by offering a combination of enterprise-tested products, substantial feature sets, superior value, and unparalleled customer service. For more information on CrossTec Corporation or the CrossTec family of products, please visit http://www.CrossTecSoftware.com.
For editorial information, contact:
Jeff Richards
CrossTec Corporation
jr(at)crosstecsoftware(dot)com
616-855-1825
http://www.crosstecsoftware.com