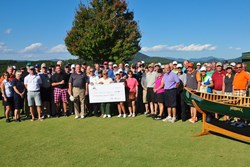 Baby Boomers Paying it Forward
Greenville, SC (PRWEB) July 09, 2013
Life is already sweet at Lake Keowee. However, residents at this stunning gated Western South Carolina lake community have been making life even sweeter through their participation in the local community. The success of its foundation has soared in the past year.
Property owners here are associated with several charities in Western South Carolina. However, The Reserve at Lake Keowee Community Foundation is the primary organization for property owners at the lake. The foundation serves the region in many ways such as by preserving the natural state of the local environment, providing top notch education to its residents and visitors of the lake, by sponsoring outreach activities and hosting fundraising benefits for their established causes.
In 2012, The Reserve at Lake Keowee Community Foundation contributed more than $35,000 to local non-profit organizations. The Foundation sponsored cultural activities, golf fundraisers and arts and entertainment events at nearby venues such as ARTISPHERE. The success and response from these events attracts new members to the Foundation and often becomes a turning point to successful professionals who want to pay it forward as they decide where to retire in South Carolina.
This year, The Reserve at Lake Keowee Community Foundation has been on a roll. The Foundation kicked off the New Year with a Loon Boat Tour, an Adopt-A-Highway and Eagle Survey events. By spring, members of The Foundation attended photography and nature exhibits, garden field trips and a public area cleanup. During the dog days of summer, The Foundation has planned various art exhibits and festivals for the club members. For Baby Boomers deciding where to retire in South Carolina, The Reserve at Lake Keowee Community Foundation is worth learning more about as it makes a difference in the world beyond their neighborhood and bonds this friendly community closer together. Take a peek at their cottage homes.
The Reserve at Lake Keowee Discovery Package is a great opportunity for Baby Boomers who are considering relocating to the area to learn more about the community. The Discovery Package includes: exclusive golf rates, amenity and dining access and community boat and home tours. Guests participating in the exciting Discovery Packages also have a chance to experience life as a member of the community. While staying in the upscale guest house suites, guests can chat with residents and inquire about the philanthropic events and opportunities organized by this gated Western South Carolina lake community.
About Real Estate Scorecard
Real Estate Scorecard writes unbiased real estate reviews providing in-depth information about popular gated communities in Florida, Georgia, North Carolina, South Carolina and Tennessee, all in an effort to help people discover where to retire in the Southeast.
Website: http://realestatescorecard.com