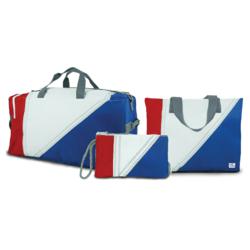 Victor, NY (PRWEB) July 10, 2013
SailorBags offers its latest answer to lightweight products for weekend adventures and outdoor excursions with the introduction of its Tri-Sail Collection.
The Tri-Sail Collection, on display at this month's Atlanta International Gift & Home Furnishings Market, includes a waterproof-lined duffel bag, tote bag, and wristlet purse each sporting a new, bold, multi-colored red, white and blue geometric patchwork design. Suggested retail prices – duffel bag, $97; tote bag, $68; and wristlet purse, $22. Products are available for wholesale orders now; to be shipped in September in time for the holiday season.
The sailcloth duffel bag is the standout with a new design for sports enthusiasts. Similar in shape to a deep, rectangular sports bag, it boasts two large interior compartments and a wide "U"-shaped top zippered opening for easy access. It includes a waterproof lining and marine-grade hardware that stand up to the outdoor elements.
"Our customers want the best of all worlds – a timeless design and high quality construction that lasts – and that's our goal with every new product introduction. The Tri-Sail Collection lives up to that," said Anne Zimmer, president, SailorBags.
Originally designed to meet the tough standards of sailors, SailorBags has expanded its product line to include fashion handbags, wine bags, pillow covers, lunch bags, electronics bags, home accessories, and more. Ideal for corporate and personal gifts, promotional giveaways, and regatta trophies, find the stylish and indestructible sailcloth products in retail stores, gift boutiques, and marine shops across the country, and available for wholesale purchase.
To ensure fabric quality, SailorBags manufactures its own sailcloth in the exact manner as Dacron®—the same polyester that sails are made from—but without the resins and chemicals that make the usual sailcloth fabric stiff to handle. The result is tightly woven, water- and stain-resistant sailcloth that acquires its own patina and personality with use over time. The fabric is gentle when it needs to be, such as on boat finishes, and tough enough to be tossed and stowed.
The company will be exhibiting in booth 216 in Building 2 at the Atlanta International Gift & Home Furnishings Market from July 10-17, 2013.
About SailorBags
SailorBags® makes affordable bags from custom-woven sailcloth designed for a rough, adventurous and sporty lifestyle. The company continues to design stylish, yet completely indestructible products that stand up to sun, waves and squalls. SailorBags is headquartered near New York's Finger Lakes region with close proximity to many of its key markets and customers—those that have a passion for the water and the nautical lifestyle. For more information about SailorBags, visit http://www.sailorbags.com.