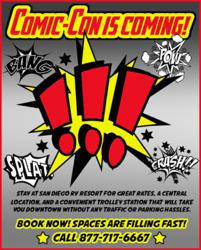 Relax and rehash the day's festivities amongst friends while enjoying the beautiful SD skyline.
San Diego, CA (PRWEB) July 09, 2013
Each year, San Diego RV Resort watches the city fill with fans: Comic-Con fans, to be exact. The popularity of Comic-Con International: San Diego is indisputable, with coveted convention badges selling out in just shy of an hour and a half.
While Comic-Con trips are certainly centered around the convention, there is so much to see in and around downtown San Diego.
San Diego RV Resort shares a few "must dos" during the Comic-Con downtime:
See the city.
Have a free morning? Head to Little Italy for a traditional Italian pastry and cappuccino. A quiet afternoon? Don't miss the historic Gaslamp Quarter; it is full of great restaurants, bars and shopping. Just a few blocks away, stroll the waterfront and consider boarding the USS Midway for an interesting look at the naval history of the area.
Grab a drink, enjoy the view.
San Diego's downtown has a number of fantastic outdoor and rooftop restaurants and bars. With fantastic year-round weather, how could it not? Relax and rehash the day's festivities amongst friends while enjoying the beautiful SD skyline.
Relax on Coronado Island.
For badge-holders and visitors, escape the hustle and bustle of downtown with a short ferry ride to beautiful Coronado Island. Be sure to bring the bathing suit and sunscreen, Coronado Beach was voted the best beach in America in 2012.
Get in on the action.
Badge, or no badge, there is plenty of Comic-Con related activities going on in San Diego. Badge holders are invited to the MTV2 Party in the Park on Thursday, July 18 at Petco Park. Events open to everyone include a Super Hero Party at Side Bar, Walking Dead Fan Meet-up & Party, and Veronica Mars Fan Event. Find more events at http://www.outsidecomiccon.com.
Secure your site.
Just as passes sold out quickly, lodging options are limited for the weekend. Stay in a central location with easy access to convenient MTS Trolley at San Diego RV Resort. Hop on at SDRV and hop off downtown; no fighting for parking or battling traffic. For rates or to book a site today at http://www.sdrvresort.com.
###
About San Diego RV Resort:
San Diego RV Resort, a Sunland RV Resort property, puts the best of Southern California at your fingertips. The award-winning San Diego RV Resort is centrally located with convenient freeway access. Spacious lots with full hookups and quality amenities welcome guests; nearby attractions ensure there is never a dull moment. Our comfortable, pet-friendly enviroment is the perfect location for short trips or extended stays. To learn more, visit http://www.sdrvresort.com.