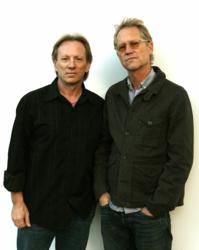 For not being of the generation when America was popular and being a 2nd generation fan, I thought the show was great. A great mix of hits, new stuff and covers! Definitely would pay to see them again.
Branson, Missouri (PRWEB) July 09, 2013
Branson Ticket & Travel - Grammy winning group America to Appear at the Oak Ridge Boys Theatre in 2013. The Oak Ridge Boys Theatre is proud to add America to their 2013 star series line up.
The band that brought you "Horse with no Name", "You can do Magic", "Sister Golden Hair", "Ventura Highway" and so many more hits will perform live at the Oak Ridge Boys Theatre in Branson, MO on September 20, 2013.
Tickets are available by clicking here.
The group had instant success with their first, self-titled release, which hit #1 on the U.S. charts and went platinum on the strength of "Horse With No Name," their first #1 hit single. They won the "Best New Artist" Grammy in 1972 and began a relentless career as touring musicians.
Throughout their career, they have released 16 studio albums, and have had massive hits with the #1 song "Sister Golden Hair," "Tin Man," "Lonely People," "I Need You," "Don't Cross The River" and "You Can Do Magic." Beginning in 1974, America started working with longtime Beatles producer George Martin, for a total of six albums.
America's serene folk melodies and sweetly mystical lyrics took over the pop charts in the early 1970s, garnering fans who continue to flock to their concerts.
The group won a Grammy Award, has five Top 10 albums, three #1 singles and 11 Top 40 hits.
Tickets go on sale Wednesday April 10th and can be made by calling the box-office at 800-432-4202