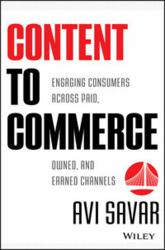 Hoboken, NJ (PRWEB) July 09, 2013
Wiley announces the availability of Content to Commerce (Wiley; ISBN: 978-1-118-48018-2; Hardcover & E-Book; May 2013; $24.95), an all-encompassing guide that gives a clear approach for big and small brands to engage consumers across paid, owned and earned channels with the end goal of creating long-term, loyal customers in the maze of social media marketing. The book is written by social media and marketing expert Avi Savar, Founder & Chief Creative Officer at Big Fuel, a leading pure-play social media agency for big brands such as T-Mobile, Best Buy, Starwood, AFLAC and more.
With the help of some of the biggest brand experts from Ford, Google, Oracle, IBM, Kraft Foods and more, Content to Commerce answers questions about how to build a successful marketing organization today, how to create a carefully architected brand network that amplifies everything a brand does or says in the marketplace. From big- picture strategy to necessary tools and tactics, this book offers a practical blueprint to incorporating the "Network Model" to achieve tangible business results.
"In order for brands to succeed in today's socially connected world, it is critical to think like a publisher and act like a media network," said Savar. "You have to master the publishing and entertainment world's tools and techniques for content marketing success and harness social media's capacity to fuel stronger relationships between your brand and consumers."
Content to Commerce offers proven guidance on how to leverage social media effectively—ultimately reaching today's hyper-connected and highly-fragmented audiences. The book details how to:

Understand your audience by listening to their needs, wants, interests, and concerns
Create continuity by driving meaningful, relevant, and "always on" conversation
Match the right talent to the right tools, techniques, and processes to create an operationally sound brand network
Integrate multiple social channels so that the programming of each drives the goals of the entire network forward
Align all elements of a campaign around "water cooler moments"
The Network Model allows marketers to turn shallow and short-term projects into deep, targeted, long-term engagements. Content to Commerce shows how to prioritize with a clear escalation path in order to drive big, significant, and measurable value. Conquer the social media landscape, and control the brand's destiny.
AVI SAVAR is the founder and Chief Creative Officer of Big Fuel, a pure-play social media agency designed for the needs of large brands. Since 2004, Big Fuel has helped brands navigate the world of social media and branded content. Today, Big Fuel is one of the largest pure-play social media agencies globally—with over 100 employees and clients that include Burger King, Best Buy, Starwood, T-Mobile, Chase, Microsoft, Gore-Tex, H&M, Samsung, Clorox, and Budweiser. In June 2011, Avi led Big Fuel to a successful acquisition by French media giant Publicis Groupe and recently integrated within Starcom MediaVest Group, giving Big Fuel a global footprint. Prior to founding Big Fuel, Avi was a television producer, creating and developing breakthrough entertainment programming for ABC's Good Morning America and networks including MTV, VH1, Showtime, Fox, and USA. A sought-after industry spokesperson, Avi was recently named President of the inaugural Cannes Lions Branded Content Jury and is a board member of the Social Media Advertising Consortium (SMAC).
Visit http://www.avisavar.com
About Big Fuel:
Big Fuel is a marketing and communications company that takes brands From Content To Commerce, a unique approach that bridges "people stories" to "product stories" through social media and branded content. We work with dynamic brands to deliver measurable consumer engagement and tangible business results. Purchased by Publicis in 2011, Big Fuel recently integrated within SMG to provide a 360-degree Paid, Owned & Earned approach to communications planning. As leaders in Audience Insights, Community Management, Influencer Marketing & Content Distribution, Big Fuel can act as a stand-alone AOR or integrate within SMG to provide a holistic view of the current marketing landscape ensuring that our experience creation is social by design.