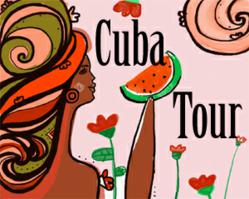 My country is full of history, music, and culture. Cubans know how to have fun, says Leonardo Hechavarría of Cuba Education Tours
Blaine, WA (PRWEB) July 09, 2013
Every American can now have an authentic people-to-people Cuba experience for thousands of dollars less than what big for profit U.S. agencies charge. Cuba Education Tours wants regular working people to witness Cuba.
Cuba Education Tours, North America's foremost Cuba travel company, is committed to offering economical quality travel experiences. And now, for a limited time, travelers can reserve a space on one of their summer and fall tours for even less than their usual low prices.
Priced at just $1389 (including round trip air fare from Cancún), Cuba Education Tours' Summer Special is geared to introducing Cuba to regular Americans: its youth, elderly, women, peoples of color and LGBT communities previously prevented from visiting Cuba because most U.S. tour operators charge four to seven thousand dollars – about the same as a round the world excursion.
Cuban born Leonardo Hechavarría, Cuba Education Tours Organizer, explains, "We get twenty calls a day from Americans who want to go to Cuba but can't afford to because the big tour operators in the States charge so much. I talked with our Cuban suppliers and asked them to collaborate with us in making Cuba available to whole new demographics. I proposed they accommodate new travelers, not just rich people who can drop $7,000 for a week in Cuba so they can cross it off their bucket list. I asked the Cubans to consider programs for regular Americans who've always dreamed of witnessing a nation absolutely unique in the modern world. I asked them to provide a high quality tour for America's youth, elderly, working women, and the peoples of color and LGBT communities.
"The Cubans said yes, and thanked us for helping to bring new audiences to Cuba. They said they'll embrace these new groups with open arms."
"Our objective has always been to provide North Americans with the opportunity to experience daily life in Cuba through sharing and interacting with everyday Cubans. Over the past 16 years, we have helped thousands of Americans do just that. We know that this increases understanding and solidarity between Americans and Cubans. Our hope with this special offer is that we can broaden our reach and provide this opportunity to those who wouldn't have been able to travel with us before," says Marcel Hatch, President, Cuba Education Tours.
Cuba Education Tours is pleased to announce five specially priced eight-day tours with departure dates in August, September and October. For only $1389.00 (including airfare) you can join the thousands of Americans who have traveled to Cuba legally with Cuba Education Tours.
But don't be concerned that the discounted price means a watered down experience! As with all of Cuba Education Tours' packages, guests enjoy the full time services of a highly knowledgeable, bilingual Cuban guide and a dedicated motor coach chauffeur. Each tour has a full itinerary of engaging activities:

Experience the sights and sounds of Old Havana on a private walking tour that takes you through the largest collection of Spanish colonial-era architecture in the Americas.
Visit the home of the icon cherished by Cubans and Americans alike, Ernest Hemingway.
Ever wonder how the famous Cuban rum is made and what makes it unique? You will find out as you visit the Havana Club Museum of Rum.
Be transported back to the early 1500s as you witness the dramatic firing of the cannon at the Fortress of San Carlos de la Cabana.
Dance the night away at several Havana's hottest venues or fall in love all over again as you stroll along Havana's famed seawall (El Malécon).
While these highlights combine to make a unique and rich tour experience, it is the friendships and candid interactions with everyday Cubans that will form the basis of your most treasured memories.
"My country is full of history, music, and culture. Cubans know how to have fun! And we are very hospitable to our American guests. I love introducing my country to them and watching their eyes light up and their smiles grow on each of our tours. They learn a lot but they have so much fun doing it and they make so many friends along the way," says Cuban born Graciella Quiñones, Client Services Manager at Cuba Educations Tours.
To learn more about these specially priced tours (including departure dates and detailed itineraries), please visit: http://www.cubaexplorer.com
About Cuba Education Tours: Established in 1997, Cuba Education Tours has helped thousands of North Americans have an authentic Cuba experience. Their varied and economical tour packages are available for individuals, schools, businesses, and community groups. The organization's experienced Cuban, American and Canadian staff is committed to ensuring an enjoyable, educational and hassle-free travel experience for each and every participant. Cuba Education Tours is recognized on the island as the foremost North American organization promoting friendship and understanding.