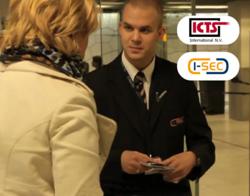 This acquisition marks the ICTS and I-SEC's intention to revamp operations in Germany and other key markets.
Amsterdam, The Netherlands (PRWEB) July 10, 2013
ICTS International N.V. ("ICTS") announced that it has acquired all shares of a German aviation security company that operates on Frankfurt Airport employing over 400 security agents.
The acquisition, which was financed with own capital, is expected to increase the annual revenue of the I-SEC International Security Group ("I-SEC") by €14 million (approximately $18.1 million), and render the company further opportunities in Frankfurt Airport and the rest of the German market - already on the near term.
This acquisition reiterates the commitment of ICTS and I-SEC to investing in key markets with high standard security service requirements.
The acquired company has been renamed "I-SEC Deutsche Luftsicherheit GmbH" and is a wholly-owned subsidiary of I-SEC.
Ran Langer, CEO of I-SEC, stated: "We are very pleased with the agreement, which will enable I-SEC to accelerate our growth while also providing us with a strong presence in a very demanding market. The service portfolio of I-SEC already enjoys strong presence in the aviation security market in 11 countries. This is also a fantastic opportunity for us to build upon this new platform and further strengthen our industry-leading brand."
Glenn Murphy, newly appointed manager of I-SEC Deutsche Luftsicherheit GmbH, denoted: "I'm proud to contribute my over 20 years experience and extensive knowledge of the German aviation security market to the success of this exciting company. I-SEC's newly acquired subsidiary now has a complete and able management. We do not anticipate changes in the organization throughout the transition process or in the near term. I am looking forward to continuing to serve our valued customers in the years to come in Germany."
About ICTS International N.V.
ICTS International specializes in the development and implementation of innovative security concepts and solutions designed to meet the needs of a variety of industries - mainly aviation transportation, border control and sensitive facilities. Founded in 1982 and is listed on the US OTC (ICTSF). ICTS international benefits from over two decades of expertise and international operational experience in transportation security, with a particular emphasis on high-risk environments, passenger processing transactions and the integration of security services to provide a comprehensive security solution. It also offers a wide variety of customized training programs, tailored procedures and a wide range of security consulting services. The company has developed and implemented unique technological solutions, based on its comprehensive approach to security, designed to enhance the level of security while accelerating the security check process.
For more information, visit http://www.icts-int.com
About I-SEC International Security Group B.V.
I-SEC International Security Group B.V. specializes in the provision of advanced aviation security services worldwide. These include security consulting and security handling: security profiling, checkpoint screening, HBS screening, cargo security and other services. In addition, I-SEC provides standard as well as tailor made training courses for security staff and management. I-SEC is a fully owned by ICTS International N.V and it benefits from the broad know-how and international operational experienced it has acquired in more than 2 decades of intensive activity in the field of aviation security. I-SEC management and key personnel are widely recognized in the industry as developers of pioneering aviation security concepts, methods and technologies, focusing primarily on high risk environments. I-SEC is positioned to deliver cost effective aviation security solutions and services to airlines and airports with varying operational volumes and needs. New I-SEC subsidiaries have been established in numerous European countries as The Netherlands, United Kingdom, Russia, Belgium, Japan and more while it continues to expand its presence in new locations and markets.
For more information, visit http://www.i-sec.com
or contact us through email at info@i-sec.com