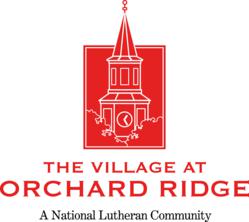 'TVOR is an excellent setting for equipping pastors, seminarians and lay leaders for effective ministry.' — Kenton T. Derstine, CPE & Mentored Ministry Director at Eastern Mennonite Seminary
Winchester, Virginia (PRWEB) July 09, 2013
Theological students from Eastern Mennonite Seminary, along with clergy and laypersons pursuing Clinical Pastoral Education (CPE) will now be able to earn credits toward their denominational ordination requirements and/or certification as professional chaplains at The Village at Orchard Ridge—A National Lutheran Community (TVOR).
Program participants gain hands-on ministry experience through supervised learning opportunities as a chaplain in retirement communities like TVOR, or in a hospital or congregation setting. The CPE program is designed to help participants develop self-awareness and interpersonal awareness, conceptual ability, pastoral functioning and ministry development and management. The goals are pastoral reflection, formation and competence.
"As a retirement community on the cutting edge of understanding what contributes to a purposeful and satisfying life in retirement, TVOR is an excellent setting for equipping pastors, seminarians and lay leaders for effective ministry to seniors and their families," Eastern Mennonite Seminary's Director of CPE & Mentored Ministry Kenton T. Derstine said. "With the percentage of our population in their retirement years growing every year it is essential that pastors understand the needs of seniors."
CPE participants at TVOR will have assigned roles in areas of TVOR's Pastoral Program including leadership, preaching, teaching and providing one-on-one pastoral care.
"We believe in equipping and encouraging those pursuing careers and ministry within senior care and see this partnership with Eastern Mennonite Seminary as an avenue to do so," TVOR Executive Director John Midolo said. "This also underscores our commitment to providing spiritual resources and support for those who live and work in our community, regardless of faith affiliation."
About The Village at Orchard Ridge (TVOR)
The Village at Orchard Ridge in Winchester, Va., is a new continuing care retirement community (CCRC) on 132-acres in the Shenandoah Valley. The community opened in February 2013 and offers independent living cottage homes and apartments with access to home-based assisted services, assisted living memory care, and coming soon—skilled nursing care options and short-term rehabilitation. For more information, visit http://www.thevillageatorchardridge.org.
About National Lutheran Communities & Services (NLCS)
Based in Rockville, Md., NLCS is a not-for-profit, faith-based ministry of the Evangelical Lutheran Church in America's (ELCA) Delaware-Maryland, Metropolitan Washington, D.C. and Virginia Synods, serving people of all beliefs. NLCS provides seniors with a variety of lifestyle, residential and health care options through retirement communities in Maryland and Virginia.
Other communities sponsored by NLCS include its flagship community The Village at Rockville (formerly the National Lutheran Home) in Rockville, Md., offering independent living, assisted living, short-term rehabilitation, respite, extended nursing care, hospice, and coming soon, memory support; The Legacy at North Augusta in Staunton, Va., an independent living rental community offering assisted living services; and The Village at Crystal Spring in Annapolis, Md., a new continuing care retirement community – subject to Maryland Department of Aging approval – which will serve as the centerpiece of a multi-generational residential and mixed-use project. For more information about any of our communities, visit http://www.nationallutheran.org.