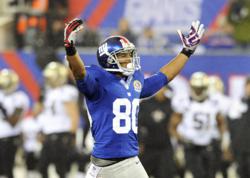 New York, NY (PRWEB) July 09, 2013
Victor Cruz has worked hard his whole life to get to the point where he is now. The young football star has recently signed a contract with the New York Giants for about $46 million over the next six years, with $15.6 million guaranteed. This contract with the Giants is the most the franchise has ever given a receiver. This also makes Cruz the NFL's 18th highest paid receiver. After signing the deal, Cruz can now turn away from negotiating contracts and focus entirely on football. Before the contract was signed, Cruz had skipped the Giants organized team activities and didn't sign his first round restricted free agent tender until after the team's mini camp was complete.
Just three short years ago, the New Jersey native had to fight to make the New York Giants roster as an undrafted free agent out of the University of Massachusetts. At the time, the Giants were the only team that had even offered Cruz a chance. Now, the popular salsa dancing wide receiver is a top player on the Giants and in the league. Over the past two seasons he led the Giants with 168 catches for 2,628 yards and 19 touchdowns. Cruz has one championship ring with the team, and you can bet he will be looking for many more. Growing up next door to the Giants his whole life, it is important to Cruz to be a member of this team. He looked up to them growing up while playing football, and now he wants to be there for all the kids looking up to him, as well as his family. Cruz grew up in an impoverished area of New Jersey, and says he wants to be a role model for all of the children who do not have what others do.
Inside Track Tickets likes athletes that can stand up and be role models for those who look up to them, like Victor Cruz. He is a great player, person, and idol, and Inside Track Tickets supports him and the New York Giants. To find tickets to the Giants and watch Cruz continue to make strides in the NFL, visit http://www.NewYorkGiants-Tickets.com. http://www.NewYorkGiants-Tickets.com is a popular site that offers fans a reasonable price for Giants tickets, as well as world-class customer service. Fans that use the site can also take advantage of the Giants social media fan hub, where they can get updates on their favorite teams and take part in active discussion!