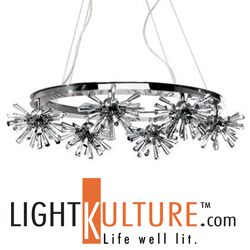 I like the fact that Eurofase offer many series in a variety of coordinating shapes and sizes.
New York, NY (PRWEB) July 10, 2013
LightKulture.com is pleased to offer Eurofase, artful illumination. "The Eurofase line is has an extensive collection of contemporary lighting for residential, hospitality and commercial applications," noted Susan Inderbinen President of LightKulture.com. The Illuminations catalog has over 530 pages of lighting to choose from. Our style team has narrowed the assortment of chandeliers, pendants, ceiling mounted fixtures and bathroom vanity lights to an assortment of the best Eurofase Lighting has to offer. Since we just returned from the Summer Dallas International Lighting Market, we will be adding more of the freshest contemporary lighting.
Established in 1989, Eurofase has continued to evolve as a provider of artful illumination, innovative designs, lasting quality and genuine service. Beyond the style of the fixture, Eurofase's design team considers the ambiance created within the space, and gets their inspiration from how we live and work to create authentic, hand crafted lighting that fills these needs.Their flair for contemporary designs continually promotes the use of emerging technologies such as LED, halogen and compact fluorescent. The result is a grouping of products that don't just illuminate, they inspire. Whether it is a cut crystal chandelier, hand blown glass fixture or metal finishing, no design is overlooked. The result is lasting quality that is integral to modern living.
Headquartered in suburban Toronto. Eurofase has a state-of-the-art 20,000 square foot distribution center which houses their inventory for their American and International clients. In addition to Toronto, products are also manufactured in Europe and Asia.
One Eurofase trend-right collection is The Cameo series. A nickel plated honeycomb cage encompasses the fixture with glistening crystal embellishments, surrounding cascading metallic mesh chains. The meticulous detail and craftsmanship allows this collection to be the highlight of any design. With a variety of configurations available, Cameo is fitting for residential, hospitality or boutique applications.
For more information, go to Eurofase http://www.lightkulture.com/m-87-eurofase.aspx.
Eurofase, artful illumination now available at LightKulture.com.
"I've been passionate about contemporary lighting for my entire professional career. One of the reasons I am a fan of Eurofase is because I still get goosebumps whenever I walk into their Dallas World Trade Center US showroom. For me, it is a cross between going to Tiffany's and Godiva. Their fixtures are like jewels that highlight any decor. I shop the line, keeping in mind the criteria our customers ask for most often. I like the fact that Eurofase offer many series in a variety of coordinating shapes and sizes. The Prima Collection, Cameo series, Groove, Vega and Mela series are just a few good examples of their most fashionably elegant contemporary lighting. Eurofase has over 1,000 different models to choose from—interior decorative fixtures, chandeliers, pendants, bath and vanity lighting, outdoor and portable lighting. They are also on the cutting edge of lighting technology. Eurofase engineers a lot of design in every light fixture, for every budget," noted Susan.
About LightKulture.com
At LightKulture.com our mission is to offer the finest energy efficient contemporary lighting and light fixtures from around the world. We have assembled an exciting collection of the industries most innovative decorative and architectural lighting. We are proud to offer lighting solutions for both your home and work-life environments. Simplicity in design is complicated, function makes it last. Be inspired by our range of essential designs from well respected American and European manufacturers. In today's world, energy efficient lighting is as important as eco-friendly or green lighting fixtures, such as LED or CFL lighting. We offer the very best energy efficient lighting and light fixtures, both high value LED lighting fixtures and CFL lighting fixtures in modern and contemporary styles that provide quality, innovation and authenticity.
LightKulture.com
http://lightkulture.com
Email: sales(at)lightkulture(dot)com
Tel. 941-330-0422