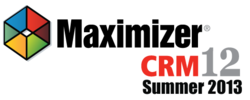 "We are seeing our clients' workforces becoming increasingly mobile – often working on-the-go and offsite – so it's important that their CRM can keep up.
Vancouver, BC (PRWEB) July 10, 2013
Maximizer Software, a leading provider of on-premise and cloud-based Customer Relationship Management (CRM) solutions, has announced the global launch of its latest release, Maximizer CRM 12 Summer 2013. The newest version of Maximizer CRM is truly unique within the CRM market place, due to the varied deployment options available, including: on-premise, public cloud and private cloud, which provide cost-effective options for small and medium enterprises (SMEs) that don't want to compromise on the quality of a solution that is core to their business.
"We are seeing our clients' workforces becoming increasingly mobile – often working on-the-go and offsite – so it's important that their CRM can keep up. Maximizer CRM 12 Summer 2013 has improvements to mobile and tablet functionalities, allowing users to access a wider range of information in less time and with fewer clicks than before," commented Vivek Thomas, president of Maximizer Software. "With these new developments, users can search for client information quicker than ever and it's now much easier to modify fields and input information via mobile and tablet".
This powerful new edition of the software offers functionality improvements devised to enable businesses of all sizes to meet key business goals and stay ahead of competitors . The latest enhancements feature better usability, improved functions to increase business productivity, enhanced mobile accessibility and extended integration tools.
The new Maximizer CRM: HubSpot Connector enables users to integrate with HubSpot's all-in-one inbound marketing software, making it easier for businesses to bridge the gap between marketing initiatives and sales activities, while generating a higher quantity of qualified leads by collecting sophisticated lead intelligence on each prospect and sending it to Maximizer CRM. This enables sales people to conduct more informed and engaging communications, shortening the sales cycles, while improving conversion rates, ensuring a return on investment (ROI).
Further key benefits of Maximizer CRM 12 Summer 2013 include:
•More Productive Searches – when accessing Maximizer via web, mobile or window, the updated 'quick search' and 'prompt for values' functions ensure searches are retrieved quickly, offering instant access to customer data;
•Contextual Activities – the improved contextual menus ensure the options you need are at your fingertips, no need to open additional windows or screens, plus improved easy insert options for notes and documents
•Process Flow in Sales, Marketing & Service – use the new user defined key fields configuration and rule based mandatory fields to drive your teams through the sales, marketing and service processes for enhanced productivity and more reliable data capture
•Email Marketing and Targeting – advancements in template security and email personalisation allow marketing to better target communications to customers and prospects alike, while sharing successful campaigns for a great return on investment.
Maximizer CRM 12 Summer 2013 is better geared for remote users than ever with improvements to web accessibility functions. Mobile-configured quick search options, easier access to previous entries, simplified address book entry and information pop-ups for appointments are designed to optimise smartphone and tablet use and increase the productivity of users on the road or working from remote locations.
About Maximizer Software
Maximizer Software delivers Customer Relationship Management (CRM) software and professional services to meet the needs, budgets and access requirements of small or medium sized businesses and divisions of large enterprises. Simple, easy-to-use and affordable, Maximizer CRM enables companies to mobilize their workforces through all-access Online, Mobile and Desktop delivery methods. Easily configurable for organizations in any industry, Maximizer CRM optimizes sales processes, enhances marketing initiatives, and, improves customer service to ultimately boost productivity and revenue. Maximizer Software has sold over one million licenses to more than 120,000 customers since 1987. For more information, please visit: http://www.maximizer.com