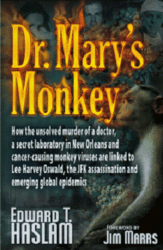 The timing of this symposium is significant since we are approaching the 50th anniversary of the murders of JFK, Lee Harvey Oswald, and Mary Sherman.
(PRWEB) July 09, 2013
Available for Interview/Coverage: Ed Haslam, author of Dr. Mary's Monkey, speaking at NOLA symposium
Author of Dr. Mary's Monkey to speak at Loyola University in New Orleans on July 20th
For media inquiries, contact:
J.Barnes - (504) 897-6110 or bcobarnes(at)aol(dot)com
Kris Millegan – (800) 556-2012 or publisher(at)trineday(dot)net
WHAT: One day symposium on the legal and medical implications of the 1964 murder of New Orleans physician Dr. Mary Sherman, hosted by author Edward T. Haslam.
WHY: This one-day symposium will feature two sessions featuring Edward T. Haslam and a panel of experts focusing on legal issues associated with the Mary Sherman murder, and upon the response of the NOPD, FBI, Orleans Parish Coroner's Office, and the U.S. Department of Justice and also on medical issues such as the unintended side-effects of vaccines grown on monkey kidney cells and the emergence of epidemics, such as the increase in soft tissue cancers in the U.S. and around the world.
WHEN: Sat., July 20, 9:00 a.m. – 1:00 p.m.
WHERE: Loyola University, New Orleans
Room 114, Miller Hall Building (corner Calhoun and Loyola St)
Open to public: admission is $20; seating is limited. Registration a must.
Each ticket qualifies you to receive one free book at the door: Dr. Mary's Monkey, Me & Lee, or A Certain Arrogance
For more information and to reserve your space, go to http://trineday.com/Loyola.
Phone inquiries: 800.556.2012
# # #